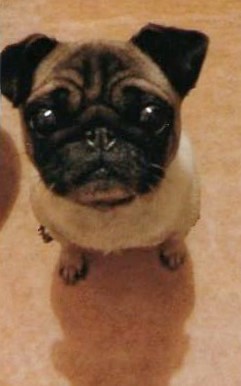 "Timi"
Timi was found wandering as a stray in 2017 and was released by the local rescue kennel to PDWRA for rehoming.  She was approximately 3 years old and was adopted by an older lady who is a very experienced pug owner.
Timi had occasional epileptic fits, but her companion pug Penny seemed to know when these were likely to occur.  Timi would then rest quietly in her basket with Penny until she had recovered.
We were told: "Timi is such a dear little girl, and has settled in so well.  She has bat-like ears, always sticking up, and is always full of herself, but very obedient.  Lucky Penny and me to have her".
After 3 happy years in her adoptive home, Timi's epileptic fits became too frequent, and her owner had to let her go last month.
"She is so sadly missed in so many individual ways that she had – a small girl with a great personality is the best way I can describe her".
Timi's ashes will go in her favourite place in the garden.