We are delighted to tell you that Harvey has been adopted by his foster family – he was just too special to part with.
PDWRA are immensely grateful for the love and care that his foster carers have given to Harvey, and we know he will be treasured into his twilight years.
Thank you all for your support.
Here is another brief update on Harvey – he's been catching some rays this week in the springtime sunshine, happily basking with his forever family, without a care in the world.  Handsome Harvey!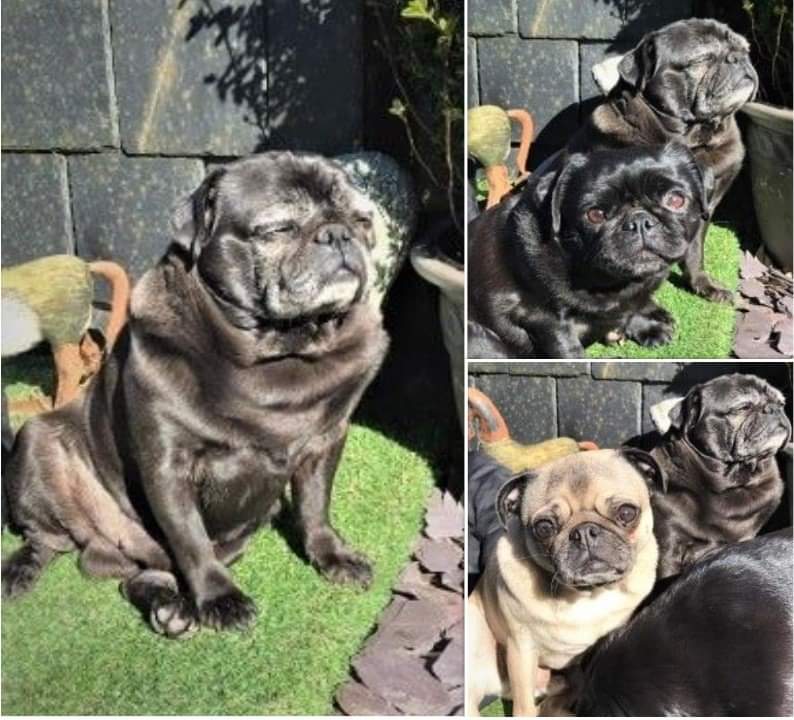 Read the whole of Harvey's story below.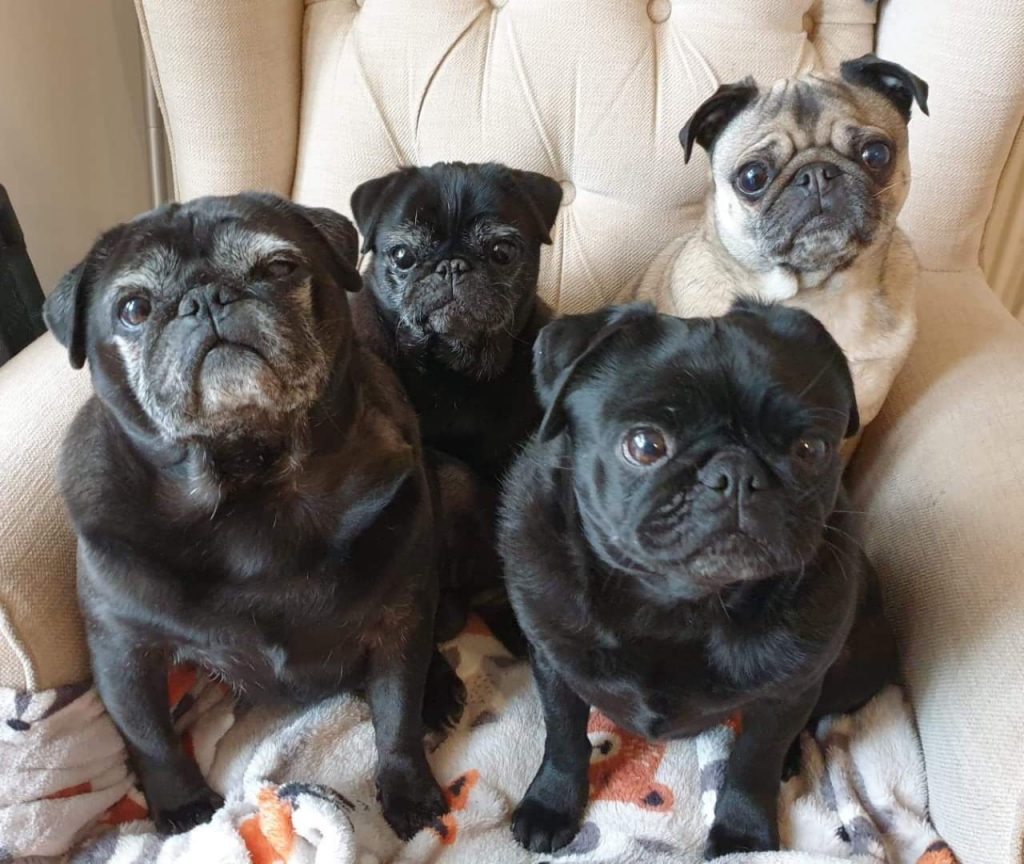 ********************
This is Harvey.  He was surrendered into our care yesterday.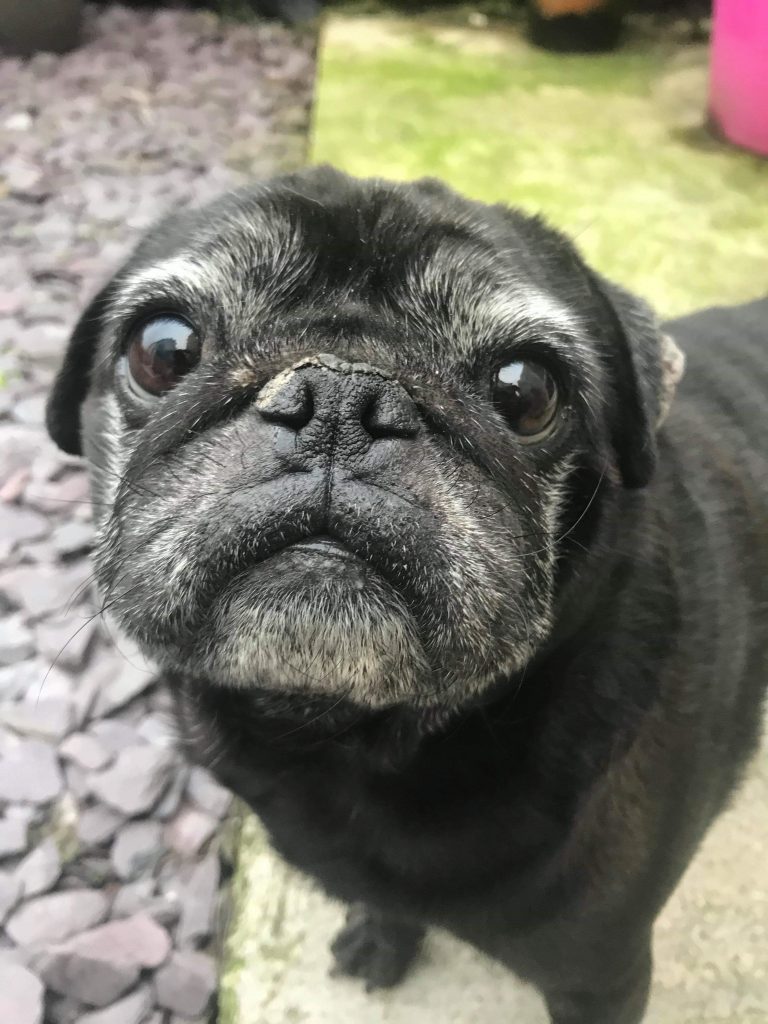 Harvey previously lived with an elderly owner who has dementia, and who was consequently struggling to care for his needs.  We thank Harvey's extended family for choosing to surrender Harvey into our care, where he will now receive the treatment he requires.
For now we are giving Harvey space just to 'be'.  True to his pug character, Harvey is making the most of the new experiences his foster home has to offer – short walks, regular appropriate meals, and the companionship of other dogs.
Harvey has an appointment with the vet today, when his treatment will begin.  We will keep you all updated on his progress.
Please donate to help us fund Harvey's treatment.  You can donate via Paypal at https://www.paypal.me/pugdogwelfare
Or for alternative methods, here is the link to our Donating to Pug Welfare page:
https://pugwelfare-rescue.org.uk/donating-to-pug-dog-welfare/
Please use the reference "Harvey" so that we can quickly acknowledge your donations.
On behalf of Harvey, thank you.
Harvey's vet visit update
Harvey's initial visit to the vet.
Harvey, as expected, was a little worried about his examination by the vet, but testament to his lovely nature; he politely permitted the vet to check him over.
Harvey has been diagnosed with atopic dermatitis with a secondary skin infection.  His ears, hind legs, tail, abdomen, anal area and scrotum are affected.  His ear canals are currently too inflamed to examine any deeper – they will be re-examined once the swelling subsides.
Harvey is currently being treated with a combination of antibiotics, steroids, flea treatment, and a medicated shampoo.  He has a follow up appointment at the end of this week.  Castration, a dental, and vaccinations will be scheduled once his skin condition is well under control.
Harvey is already scratching less, and is visibly more comfortable.  He has regained his appetite following the move, and has claimed his spot on the sofa.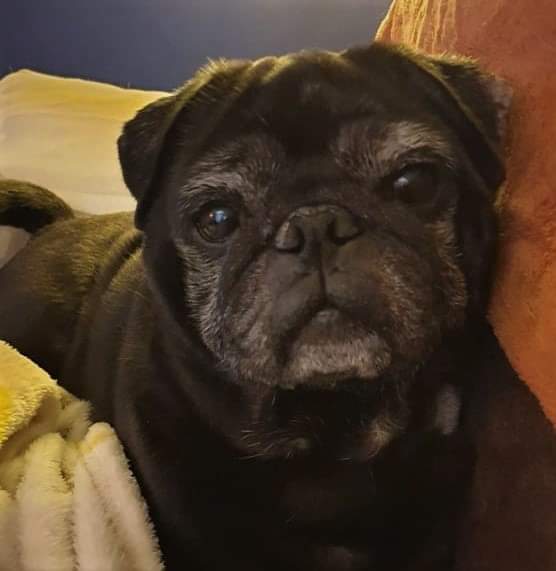 His vet bill for treatment so far – including blood tests –  is £189.98.
Thank you for your supportive words and kind donations.
Harvey – further update
Harvey's skin continues to improve – now feeling much softer and looking far less angry than it did a week ago.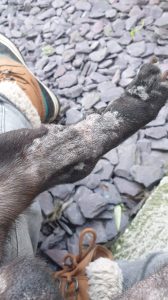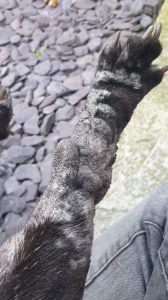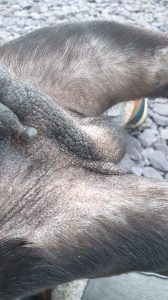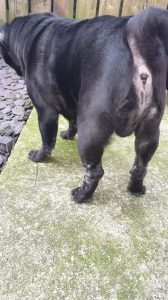 Harvey is thoroughly enjoying his time in foster, and is continuing to build friendships with the other resident animals.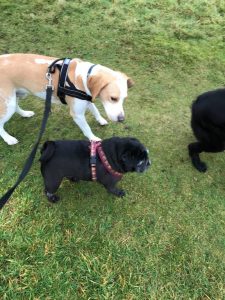 Is it time for dinner yet?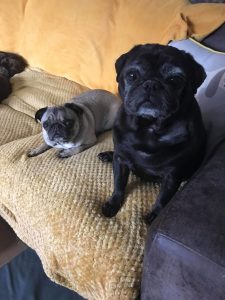 Harvey – another update
Harvey has been going from strength to strength, thanks to your kind and generous donations and support.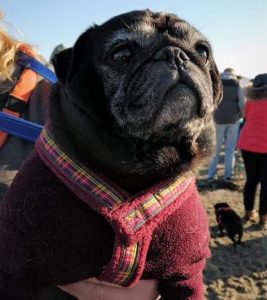 Here he is thoroughly enjoying a local pug meet this weekend.  He's quite the social butterfly and greeted the other pugs with a good sniff.  Needless to say he slept well when he got home!
His ear infection continues to improve, and he has new hair growth emerging on his legs.
Thank you for supporting Harvey's care.  We will keep you updated.
Harvey on his holidays!