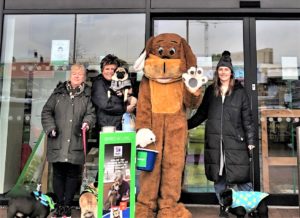 We were chosen as Community Partner, 'Charity of the Year' by Pets at Home, Crown Point, Leeds, and promoted during the Pets at Home Foundation Valentine Appeal. Supporter Emily Roberts who nominated PDWRA, dedicated this weekend to spread the word in store, as well as around the retail park.
The Pets at Home Foundation's sole mission is to help every pet find a loving home, something we have very much in common regarding our beloved pug breed.
Special thanks to Emily and her 'Valentine' for dressing up to pose for all the publicity photos! 
😍

Thanks also to everyone who visited the Pets at Home store, meeting some of the Yorkshire fundraising team, Lisa, Amanda, Julie with all their gorgeous pugs. 
You can still pop down to the store, to donate, until close of play, today, Monday 14th February.
Don't forget, if you haven't yet joined, to help raise valuable funds while you shop, please join the VIP club & set us up in Charity Lifelines.
Please select the Huntingdon store as your own to be able to select Pug Dog Welfare…. 🐾
https://vip.petsathome.com/