* Bobby has since found his forever home!*  https://pugwelfare-rescue.org.uk/bobby-has-found-his-forever-home/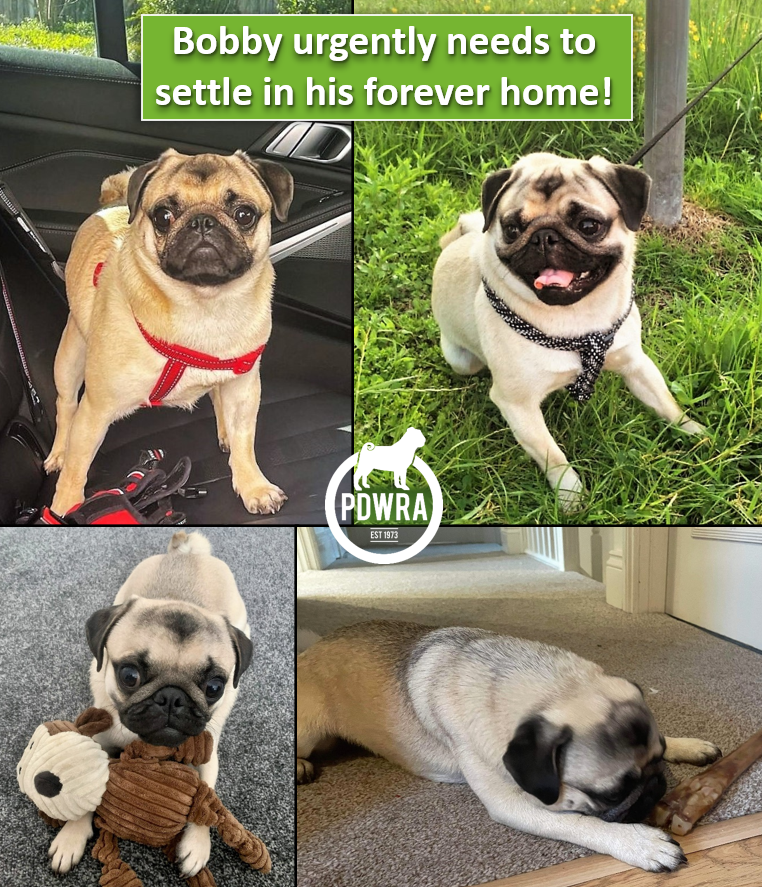 Bobby is a very sweet 2 year-old boy who desperately needs to be settled into a forever home as soon as possible.
He lived as an only dog with a young family who unfortunately couldn't cope with him, likely due to being unable to give him the attention and socialisation he needed, which has made him an anxious young boy. 
Bobby is naturally an active, playful, inquisitive and affectionate pug who loves company and interaction. His misbehaviour when left alone in his original home meant he would tear at flooring or have accidents indoors.
He has had a few temporary moves, including to a fosterer who had a dog that didn't get on with Bobby, so it was not his fault, just unfortunate, and why he urgently needs stability and security in a final move to someone who understands dog behaviour, is patient, and can provide suitable training so that he can enjoy his best life!
– He adores people and gets very excited with visitors, running to greet them as he does when people greet him in public.
– He doesn't like to be left alone but will take himself off to a quiet spot for some down time when he knows people are around.
– His favourite thing is rolling over for tummy tickles. He's often on the go, but does enjoy snuggle time too, especially in the evenings.
– He enjoys play and his toys, although sometimes he can get a little carried away with excitement.
– Bobby shows no signs of fear towards people or other dogs. He gets very excitable and interested, wanting to play with them.
– He loves to go for walks and is excellent on the lead.
– We are unsure of his tolerance of cats.
Bobby needs to be on a gluten free diet, no wheat. Changes in his food affected his gut badly and was immediately rectified once he returned to this.
He is fed wet tinned food, also poached chicken for training treats and in a Kong which keeps him busy for a while. He also really enjoys chews such as dried chicken feet.
There are no other health issues, just behavioural ones that require attention:
– Barking a lot when in the garden and when he can see into the garden from indoors. He barks and chases birds and planes and won't come on command while doing that.
– He follows commands, but only if he sees a treat in your hand and will respond to his name. With treats he can sit, lie down, shake, leave it and take it!
– He resource-guards. Some things like toys are ok and sometimes he growls a bit, but he's easily distracted with a treat, though can't be used too much to be confused with rewarding that behaviour.
– He's fine being stroked or examined by someone he trusts, though has tried nipping the vets hand when his head was held.
Bobby has recently been neutered which hopefully will help with a few of these issues including the indoor accidents, typically if he's left alone, or by not getting him outside soon enough. He happily toilets while on walks.
The moves have stressed him, making him even more anxious and restless, so he will require patience and time to transition in a loving home where he can get the care and attention he needs, and so deserves.
To apply to adopt Bobby please go to: https://pugwelfare-rescue.org.uk/adopting-a-pug/
Quoting Reference: BOBBY 23001 in your application form.
If you are already on our waiting list and are interested in adopting Bobby, please contact your PDWRA Area Coordinator directly.