Maisie's adopter writes: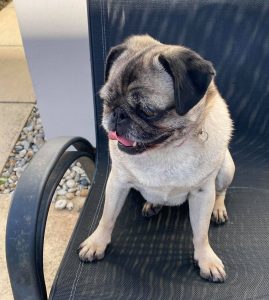 "Maisie barked relentlessly in her previous home – her owners realised that they were not meeting her requirements or knew how to help her.
My two young sons were desperate for a dog. A new colleague at work who is also a foster carer for the PDWRA, suggested that we should think about a pug, as one would fit our family life perfectly.
I came home and completed the application form straight away much to my sons' delight! After a long conversation with our Area Coordinator, we decided to become a foster home.
Then the telephone call we had been waiting for arrived, a pug was being surrendered who was good with children and other animals (we have free-roaming rabbits so this was important ) but she was a relentless barker who barked at everything including bees !!! We agreed to foster Maisie with full support from PDWRA if we needed any training advice for the barking. She could then be re-assessed for suitability for the right forever-home.
We were new to fostering and to pugs, but our sons were desperate for a dog. We were briefed that our new foster pug, Maisie, was a relentless barker. She was brought to our home and immediately walked into the house as if she had lived here forever, then jumped up on the sofa and claimed her seat. We had the most joyful couple of weeks assessing her behaviour and discovering that she hardly barked now that she was getting the attention she obviously so craved.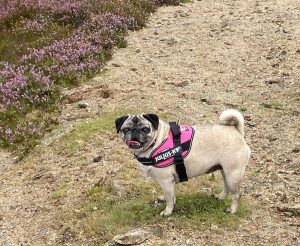 She enjoys daily walks to our local beach and walking the boys to school every day. My eldest son had been struggling with the effects of being separated from me during lockdown as I am a nurse, but Maisie has transformed him back to his happy self and she really helped him deal with the challenges we have faced this year.
We have now adopted Maisie. This little pug has rocked our world and we feel privileged to have her in our lives. She is now perfectly quiet. She loves the sea nearby and loves her new family."