We need Volunteer Area Coordinators (VACs)! They are the backbone of the Charity, helping to coordinate between pugs being surrendered, and finding their new homes. 
Here is an interview with Paula Parke: Volunteer Area Coordinator.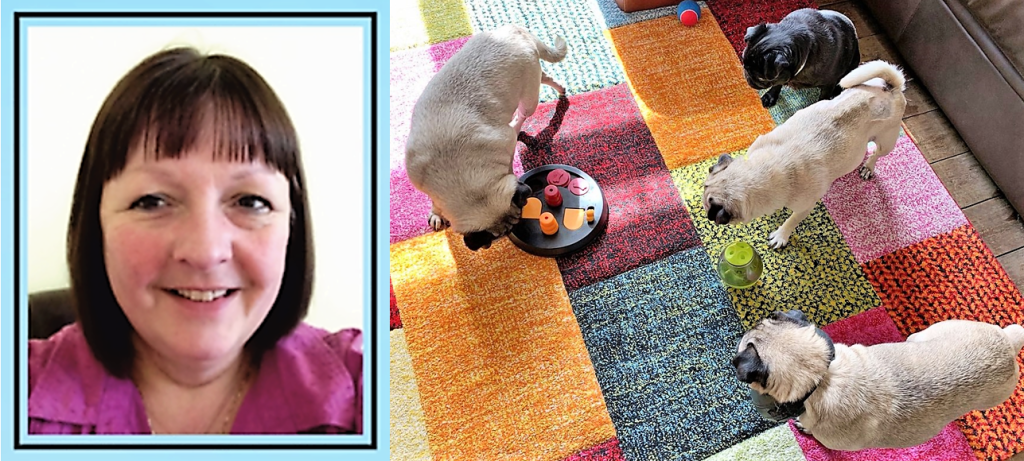 Paula, how did you start volunteering for the PDWRA?
I have been active in dog, small animal, and farm animal rescue for most of my life. I got my first pug in 2009 and fell in love with the breed. In 2011 I got my second pug they have been my constant companions ever since. In 2018 a change in my personal circumstances meant I was able to consider volunteering again and whilst looking at options I came across Pug Dog Welfare online and decided to apply. Over the years I have lost track of how many pugs I have fostered or placed in new homes and along the way I have acquired two more lovely girl pugs as long-term fosters. Seeing the pugs go to new adoptive homes is so rewarding, brings so much pleasure, and makes all the hard work worthwhile.
What does a Volunteer Coordinator do?
A Volunteer Coordinator (VAC) essentially helps coordinate public interaction with the charity in the region they look after. This ranges from taking calls from people surrendering their pugs wanting to hand in their pugs or asking for advice, coordinating taking in placing the pugs into new homes, doing organising, taking part in, and approving or rejecting home checks results for potential adopters, and organizing fosterers, as well as managing transporters and other volunteers, and overseeing and approving payments for vet care to them other local volunteers. The VAC is also responsible for keeping the trustees updated on activity in their areas and helping to promote the achievements and needs of the charity by contributing towards our social media and other publications.
What makes a good Volunteer Coordinator?
A good Volunteer Coordinator must be dedicated, committed, passionate, and have excellent organization skills since they generally manage more than one multiple pug rehoming cases and volunteers at any one time. In addition, they must have exceptional communication and listening skills to handle the needs of people who maybe are going through a sensitive time, either surrendering or taking on a new pug. Flexible working including some weekends and team working skills are necessary attributes also.
Who does a Volunteer Coordinator work with?
Apart from their own local applicants, volunteers, vet services, other dog rescue charities. A Volunteer Coordinator works with their PDWRA counterparts across the UK and gets support from the trustees and Lead VAC coordinator Paula Parke and Vet advisors Helen and Malcolm McKee.
How much time does it take?
This very much depends on the amount of time a volunteer can give and the volume of demand for PDWRA help in the area they cover. Most VACs give around 5-6 hours a week, but this can vary enormously depending on how much people want to get involved. If you are interested, why not have a chat with us about what is involved?
You can email the charity on: secretary@nullpugwelfare-rescue.com
Plus, there is also more information on the role at: Vacancies | The Pug Dog Welfare & Rescue Association (pugwelfare-rescue.org.uk)
You can email the charity on: secretary@nullpugwelfare-rescue.com
Plus, there is also more information on the role at: Vacancies | The Pug Dog Welfare & Rescue Association (pugwelfare-rescue.org.uk)