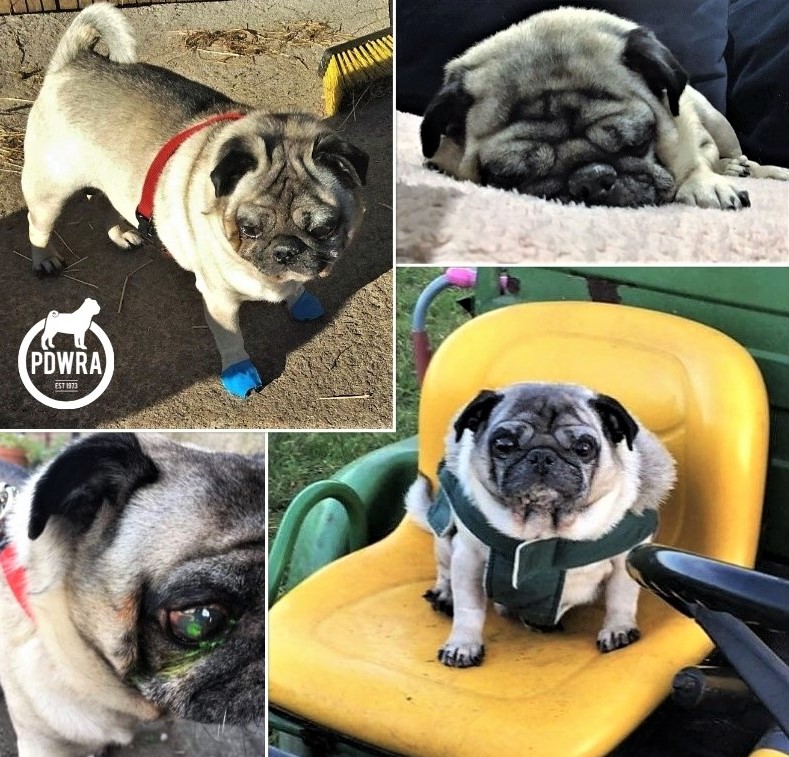 Dougie was very much loved by his owner, though was not aware of his many health conditions or could afford to pay for any treatments required. Unfortunately, Dougie's owner had to be taken into hospital and a kind neighbour was asked to look after him. The neighbour was concerned as Dougie had an eye ulcer which had been left untreated and his overall condition was not good.
We were asked if we could help, which of course we did so that Dougie could be seen by a vet as soon as possible. The vet thought Dougie's eye would rupture and he could lose it. Thankfully by immediately treating his eye it has improved, although he will have to be referred to an eye specialist in the New Year. Dougie also has many skin tumours, some of these have already been removed, though he will have to have more surgery for these plus a hernia which has to be treated.
Sweet Dougie also has a curved spine, which makes him drag his feet so cannot walk very well. He came to us in a lot of discomfort, but has been so brave and strong going through the surgeries he has had so far – He trusts us and takes it all in his stride.
A number of good people were involved in Dougie's rescue and getting him to his initial treatments and with the support of our Trustees, Dougie's healthcare will be supported and funded by us for as long as he needs it.
He is an absolute sweetheart who is very much loved by his family caring for him superbly as he deserves to be! We are thankful to everyone involved who rallied to help Dougie and his owner during their difficult time.