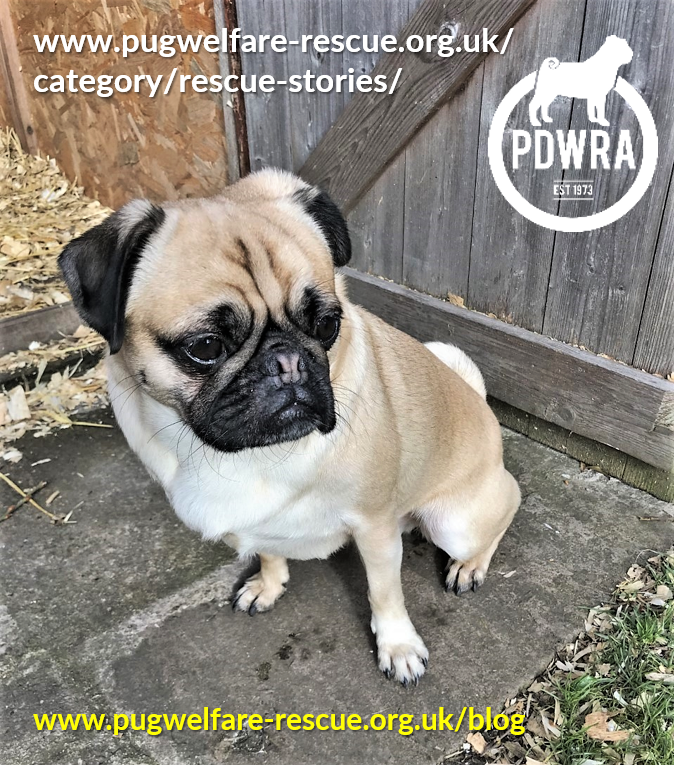 This is the story of Doug, by Anne, is typical for pugs the PDWRA helps every day across the UK.
"Two days after returning from the US, obviously still Jet lagged, I got a call from our lovely, regional PDWRA rehomer. Could I help with a pug?! Doug was in a home and wasn't settling at all, apparently quite aggressive and needed experienced fostering immediately. So, with the help of a number of our wonderful volunteers, I collected Doug from a well-known fast food restaurant car park!
He was terrified, growling as we got him out of the car to put in ours. Poor Doug didn't have a clue what was happening, he'd had a really long day handled by strangers, saying a lot about him and our volunteers, that he coped so well.
Straight into the garden we went, walking straight into my enormous British Shorthair cat!! Poor Doug, he had no idea what was to come.
Four little pug faces at the conservatory door, excited about a stranger in our garden! Well, what do you do?… out they came like only a clan of pugs can, full speed with Iris in the lead, Doug couldn't believe his little boggle eyes! Off they meandered around the garden, not a cross word between them.
Next morning off we went for our walk, Doug on the lead, mine running free, his face was a picture. He just stood and looked around, couldn't believe all these other dogs in all shapes, sizes and colours existed, I know most of the people where I walk and they are all wonderful with my foster pugs, it's was a steep learning curve but it worked, Doug accepted and greeted everyone.
Not much was known about Doug's past but it was very clear he'd never been socialised and probably shut outside for long periods, because of this he didn't know what to do to interact with people, he was extremely nervous but never once did he show fear or aggression. How they want to trust and do the right thing for us humans and how we let them down.
After a month of assessment and learning, I use learning rather than training as it's what Doug needed, to learn to be a pug. Meanwhile the search was on for his adoptive home.
We found one we thought would be perfect and after several phone calls, I took Doug to his new home. It's always hard to see them go off on a new adventure and I do worry about them, but in this case, it was a match made in heaven, so off he went without a backwards glance! He's now loving life with two other pugs, one of which is another PDWRA rescue. Doug's out for walks every day and sleeps on a bed at night!  What more can a little pug wish for!?!
I would like to thank everyone involved, Trustees, fosterers, volunteers, transporters, adopters and fundraisers, for without the time so generously given to help these pugs there would be no PDWRA and then what would happen to pugs like Doug?!".
~~~
~~~
~~~