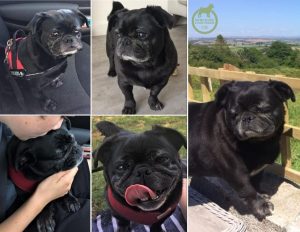 Here's a PDWRA adopter celebrating rescuing Hugo, 1 year on!
"We collected lovely Hugo, our first foster pug, a year ago, believing it was only for the Christmas period. We were looking for a golden oldie and had been waiting for a funny little old pug. We knew, though from the moment Hugo walked into our house he'd be impossible to let go – and we couldn't have wished for any better than this gorgeous chap!
It hasn't all been plain sailing – the first few weeks were an eye opener as he peed on surfaces I never even knew I had plus he struggled with separation anxiety- but we knew we wanted to be his forever home.
He was a very sprightly 7 year-old and went from living alone, to living with dogs and cats and a teenager. He's such a resilient little soul and so sweet and kind to others – unless they walk past the gate or are on the TV – then it's a different story!😂 Hugo takes everything in his stride and simply loves everyone in our home, including his toy penguin which we gave him on his first day and takes everywhere with him, making him even more lovable.
Hugo always knows how to start a game or hunt for toys or bark at pigeons and we wouldn't have him any other way. We really hope we are giving him the best life as he's given so much joy to ours. He's surpassed all our expectations in having a pug, we're just so happy to have him in our lives- he's simply adorable and we feel very lucky to have him." 💞🐾