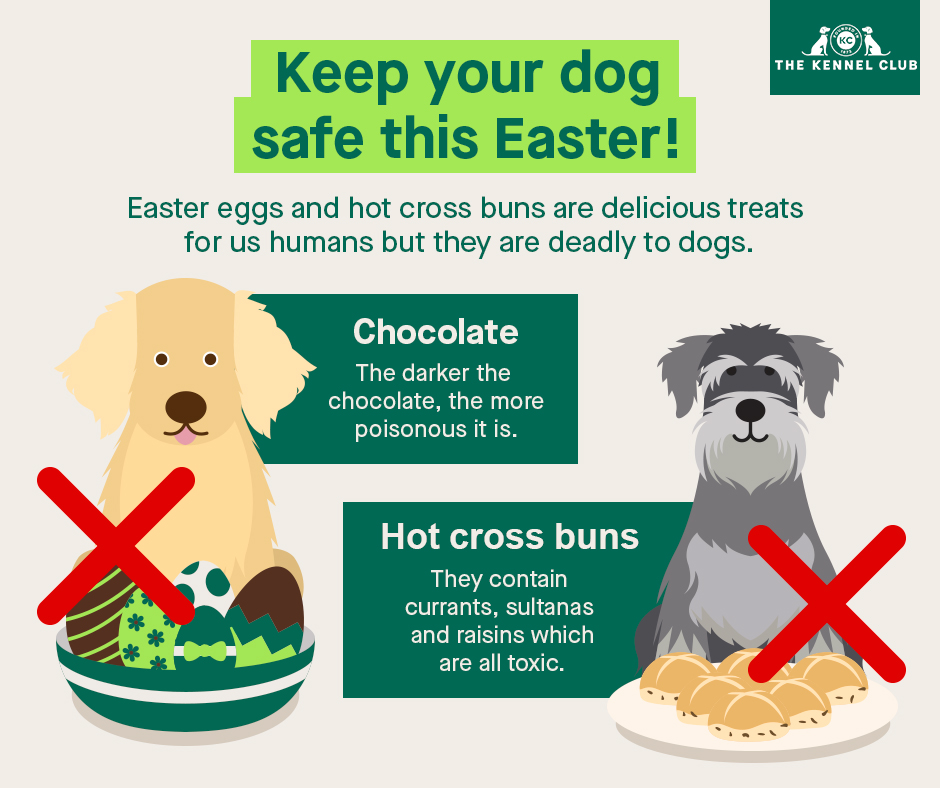 Please be vigilant while celebrating this Easter. Our visitors or children may not be as aware as we are, about the danger posed to our dogs, from chocolate, hot-cross buns or cake including raisins and sultanas or a left-over roast.
– Please ensure they know these are not treats for them.
– They are kept well out of the reach and not left lying around on coffee tables for example.
– Secure bins or ensure they are free of discarded food scraps
– Watch out for what they may find on their walks
If you suspect your dog has eaten chocolate, contact your vet immediately. They will likely be offering Emergency Services only, so not only may any incident be a distressing one but an expensive one too!
Symptoms may include vomiting, diarrhoea, excessive thirst, excitability, drooling, seizures even leading to potential kidney and heart failure.
Don't forget there are those Springtime plants to keep them away from too! 🌷
Do have a safe and Happy Easter! 🐰🐣
https://www.thekennelclub.org.uk/easterdangers?
https://www.dogstrust.org.uk/latest/2019/hide-the-chocolate-and-make-your-home-a-dog-safe-zone-this-easter?
https://www.pdsa.org.uk/pet-help-and-advice/looking-after-your-pet/all-pets/poisonous-plants?
https://www.rspca.org.uk/adviceandwelfare/pets/dogs/health/poisoning?