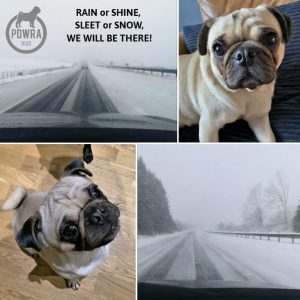 When many of us were under near-lockdown restrictions, PDWRA received a sad phone call on Boxing Day to rehome a little pug called Bella. There were family circumstances which meant she had to be collected the following morning. Her owner was very sad on that call but knew it was the only choice she had at the time, and her beloved Bella wouldn't be placed just anywhere that was available, but the best home for her. Our Area Coordinator could confidently reassure her of that and was also going to make the 4 hour round trip herself, to collect Bella.
Unfortunately, she had to battle through the snow to collect her before her owner had to leave for an onward train journey. She made it in time, and Bella made her first ever car journey! She did really well.
Bella has since settled in fabulously. She's full of beans, cute as a button and enjoying her new adventure in a kind and caring home. Her owner would be very comforted to know this.
PDWRA is available 24/7 to call regarding pugs in need, thanks to our dedicated volunteers across the country.