Autumn is a wonderful time of year for walks with your dog, but here's a reminder of potential hazards to keep an eye out for, and to keep your dog safe from them.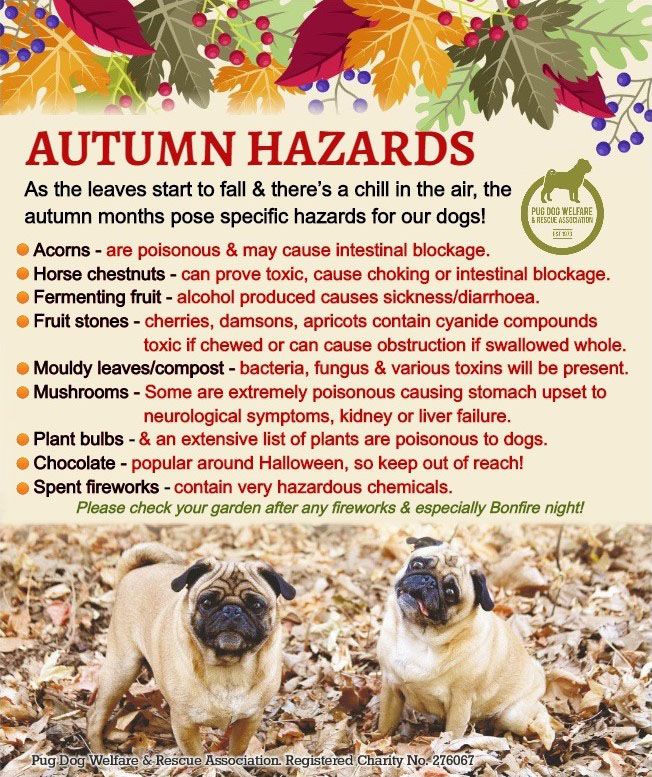 For example, acorns or horsechestnuts (conkers) can lead to sickness and diarrhoea, and if ingested in large quantities are toxic. They're also a choke hazard or can potentially become lodged in the gut causing a blockage, so make sure that your dog doesn't eat them!
There are hard to identify, dangerous mushrooms, where signs of poisoning vary dramatically from stomach upset or blood in the stools to neurological effects such as hallucinations or fits, kidney or liver failure. The symptoms may present very suddenly or delayed by days.
Poisoning from spring bulbs like daffodils, tulips or crocus are most likely to occur from being eaten in autumn when they are planted, or when they begin to flower in spring.
Be aware and if you suspect your dog has been affected in any way contact your vet as soon as possible.
For further information, see below for the link to advice from the Kennel Club:
https://www.thekennelclub.org.uk/health-and-dog-care/health/health-and-care/a-z-of-health-and-care-issues/poisons-in-your-garden