A large fawn male pug was found wandering down a country road in Suffolk last month (May).  A concerned member of the public caught him and took him to local boarding kennels nearby.  He was scanned for a microchip, which indeed he had, but unfortunately it proved to be a foreign chip and unrecognizable in the UK.  He also had no name.  After a night at the boarding kennels he was collected by the Dog Warden and moved to the kennels near Stowmarket used for holding stray dogs.  At this time we were told that he was unsteady on his back legs.
The pug's plight was posted on DogLost by the concerned lady who had found him, and we picked his story up from there.   One of our local volunteers, Debbie, was able to liberate him from the Stowmarket stray kennels the following day; she took him to her home in Suffolk to foster and assess his situation, and named him Teddy.
On visiting the vet, Teddy was discovered to be in urgent need of some dental work, as well as displaying injuries to his spine consistent with having been kicked at some time during his unknown past.   In the meantime, Teddy was settling down wonderfully well with Debbie.
PDWRA then got to work on finding a suitable permanent home for Teddy, and a lovely family from Suffolk fitted the bill perfectly.  All was looking good for Teddy's future.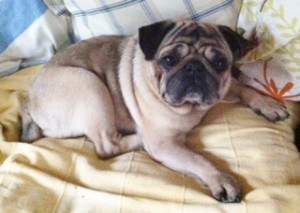 Then, tragically, a day or two later we received a phone call from Debbie, telling us that Teddy had died, suddenly, in her arms that morning.
Debbie was understandably distraught; she and her husband felt that Teddy must have had a pretty tough life thus far, and he must have thought that – at long last – he had fallen on all 4 paws.
Teddy is buried in Debbie's garden, along with her other pets, in the place where he was – albeit briefly – a happy and well-loved pug.
RIP Teddy.