This is Rosie.  Rosie has lost both her eyes.  This is her story.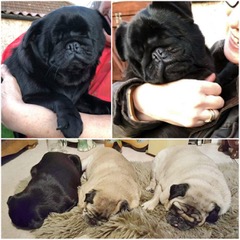 We introduced Rosie at Christmas.  She came into our care blind, having lost both her eyes as a puppy while living outdoors.  She had a very lonely existence and unsurprisingly needed a lot of vet care and socialisation once in her foster home. Here she is in front of the warm fire with her new best friends.
Rosie's a very lively, loving pug and has a very demanding bark, although being blind she did not realise it was waking everyone up throughout the night, including possibly the neighbours!
She used to make mistakes in her basket but after being taken out every time she barked she linked the two. Now she understands the 'toilet command', though is still scared to go out in the wind and bad weather – possibly from being left outside. She's let out regularly, midnight before bed and up at 4am which her foster Mum doesn't mind getting up for.
Rosie knows the plan of the house and where the dog food bin is. She waits by it when she comes in after toileting, to always get her reward treat from it! Sometimes she gets some banana which she loves too. She used to sit for food, but has become more relaxed, 'naughty', knowing she's loved, so that discipline seems to be out of the window!
Rosie's foster home has a grumble who have all had difficult backgrounds, but now get the very special attention and care they need and deserve.  Rosie's a very special girl and a lucky one since being rescued.
With your ongoing support & donations, we're able to meet the needs of Rosie, and other rescue pugs like her.
http://www.paypal.me/pugdogwelfare
using reference: Rosie
Alternatively, here is the link to our Donating to Pug Welfare page, where we have 3 options available for donating:
https://pugwelfare-rescue.org.uk/donating-to-pug-dog-welfare/
We are their voice.  Thank you.