This is Poppy, and this is her story.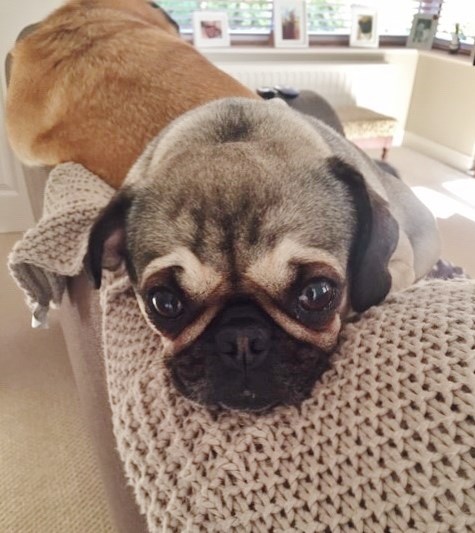 We're always looking for happy homes for pugs like Poppy!
Poppy's owner had fallen on hard times and was really struggling with an unsettled home life when we rescued & rehomed Poppy.  At first Poppy would just sit on her bed and bark at any males who walked into the room.  She looked very scared and went rigid when picked up, even growled.  She had obviously had a bad experience 😢.
But what a difference a few months made.  Poppy is now confident and absolutely adores the men in her life.  She just needed to be able to trust them. She also follows her Mum and human sister everywhere. They already had a pug, Betty, who – as you can see – Poppy has truly bonded with!
Poppy's Mum says "We are still working on her behaviour outside on walks but are making fantastic progress. We absolutely adore Poppy, she's such a character. It's so heart-warming to see how far she has come, settling in, in such a relatively short time. Thank you so much for thinking of us for Poppy. We feel truly blessed and very lucky."