Meet Morris.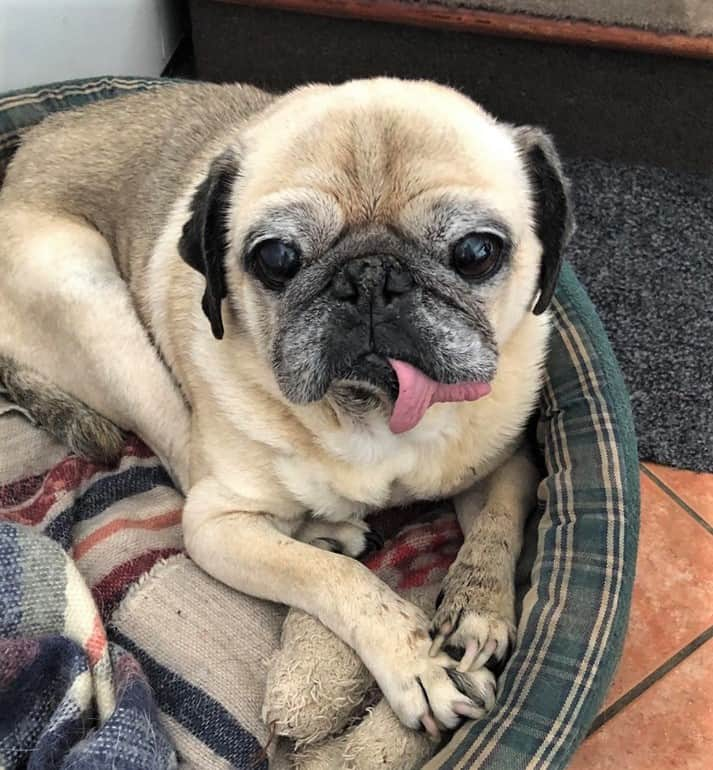 Part 1 of 2 – written by one of our Volunteers:
Morris was surrendered when his owner was taken into a hospice and would not be returning home again.  PDWRA already knew Morris, having rescued and rehomed him years ago.  He's now an elderly boy with no teeth and very arthritic.  His little tongue hangs out and he was very timid and anxious when I went to collect him.
PDWRA were looking for a suitable foster and ultimately an adopter.  Morris had few possessions, and so he came home with me, to be welcomed by my 3 other rescue pugs, 2 boys and the boss, Minnie.
Morris was fed on quite poor-quality tinned food, so I changed his diet and took him along to the vets for a health assessment.  He needed vaccinating and was given high strength tablets for his joints, which he now has daily.
Unfortunately, nobody wanted to foster or adopt him at the time, across the whole country, and I already had my hands full.  One of my boys was nearly blind and needed the love he was deprived of, caged for his early years, he had no idea what life was about; the other was progressively losing control of his rear end.  They needed dedicated care and I had no plan or capability to take on any more.
Next time we'll find out what happened to Morris …