Three of our Voluntary Area Co-ordinators recently joined forces to find little Mick his forever home in one of the most beautiful areas of the country.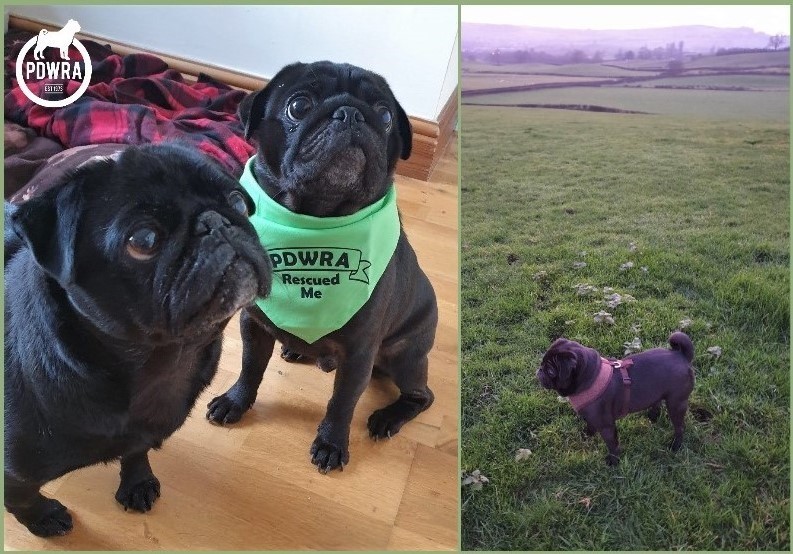 Mick is three-and-a-half-years-old and had left his busy City life to be cared for by a super foster family until the perfect home came up for him. He had a lovely time with them, and life just keeps getting better!  He is now having the most fabulous time with his new adoptive parents plus his pug sister Izzy, who have been waiting patiently on the adoption register in another part of the country, for the perfect pug to be matched to their rural lifestyle.
Mick's new parents are farmers with a passion for animal welfare and pugs! They naturally wanted to adopt a pug in need rather than purchase a puppy.
Mick's new Mum says: 'We want to say a huge thank you to all involved in the process of adopting Mick. Everybody was so helpful and kind, which made the adoption so smooth. A massive thank you also to PDWRA for all the work you put in to helping all the pugs in need. We are so grateful to have been given the opportunity to adopt Mick. He gives the best cuddles. He is such a handsome chap who fills our hearts with love every day. He will have a fantastic life with us in the countryside, along with his new sister Izzy"
John, our Area Co-ordinator, says "One of the great things about our charity is our ability to work across the UK to find the perfect solutions for pugs in need. It is so satisfying to help little Mick reach the most perfect home for him with an amazing new family".