Little Jenny – snug and safe in her adoptive home.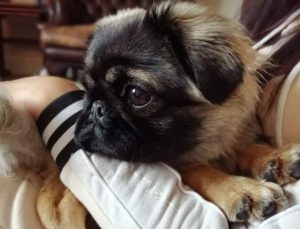 But wind the clock back six months, and dear little Pug x Pekingese Jenny's life was as far from her ideal as she could imagine.
PDWRA were alerted to Jenny's plight by a kind and concerned neighbour.  A neighbour who found Jenny living outside in a pen by the rubbish bins.  No roof, filth, little food and water – a tiny wooden rabbit shelter that offered little refuge from the weather.  An owner who could not be persuaded to make the right choice.  This was Jenny's life all day – every day, and every night.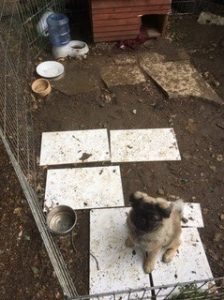 Every day the kind neighbour would give Jenny food, water and affection – telling her the same positive words "Never give up – life will get better."
Fast forward six months and PDWRA receive a call from a lady who has purchased a pug cross from a local selling site.  Concerned about Jenny's health, she turned to us for help.
We are happy to report that little Jenny has been adopted, and is now in remarkably good health. Her character – testament to the little dog that knew she deserved better.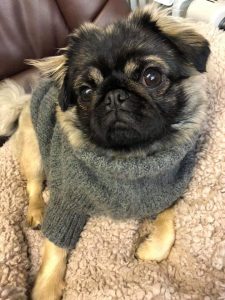 And here is Little Jenny, happy and healthy after months of loving care in her safe and warm forever home.  She's at the heart of a wonderful grumble, too.