This is Buttons. His adopter provided him with a loving home when he needed it most. Following the sad loss of his elderly Mum with whom he had spent his eleven, sheltered years, Buttons settled remarkably well into his new home. The very day after his adoption his new Mum's dear Mum passed away, so they grieved together and were a tremendous comfort to each other.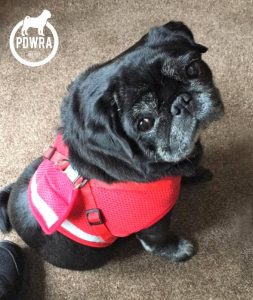 Buttons' new Mum says: "He rarely leaves my side. We do the school run to collect my granddaughters some afternoons, and he just loves the attention he gets from children and teachers who know his name and all want to cuddle him. He is so much more active now, loving runs on the beach although recall is difficult as he is really deaf and his eyesight is not good – and he has a fair turn of speed when he wants. He is so outgoing, loves his walks and his sleeps. Loves my cats but has taken to clearing the garden of any others. It's been a few months now since he arrived and I can't remember the time he wasn't here. We had our first zoomies around the lounge. He is truly home and we love him to bits!".
Buttons has become quite the village celebrity, soaking up all the attention from local children and passers-by. Enjoy the next chapter of your life, Buttons.