2020 Update on Beryl and Pearl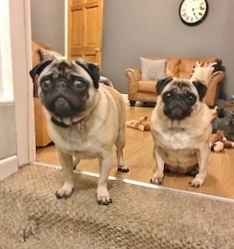 We have just received a lovely update on Beryl and Pearl, who were adopted by their new family last year.  They tell us:
"What a year!!! We've had the girls just over a year and it's been an AMAZING one.  The girls have brought us such joy.  They have big personalities: Beryl being the protective mother and Pearl being the crazy little daughter that she is. They love each other soooo much and are soooo affectionate to us too!!! Personal space is not something either of the girls understand, but we wouldn't have it any other way.  And they both have cute things they do: Beryl will always bring a soft toy to anyone coming into our home and Pearl will greet you with wags and licks (if you let her). Our first Christmas with the girls was all about learning how they would get on with the craziness of the festivities but this year we had a lovely, relaxed Christmas with family and our parents' 4 other dogs (one of which, a little Black Pug, is definitely Pearl's boyfriend).
Happy New Year to all from all of us, adopting these two was the best thing we have ever done and we can't thank and praise the PDWRA enough."
********************
Meet Beryl and Pearl, who were adopted in 2019.  They are very much loved in their forever home.
Their adopters only applied to adopt one pug, but didn't hesitate when asked if they would consider a bonded pair – double loving!
In their words:
As you can see, Beryl and Pearl are settling in wonderfully, like they've been with us for ages! They're so loving, hugs and kisses a must.  Beryl loves a nap, but daughter Pearl loves to be in on the action!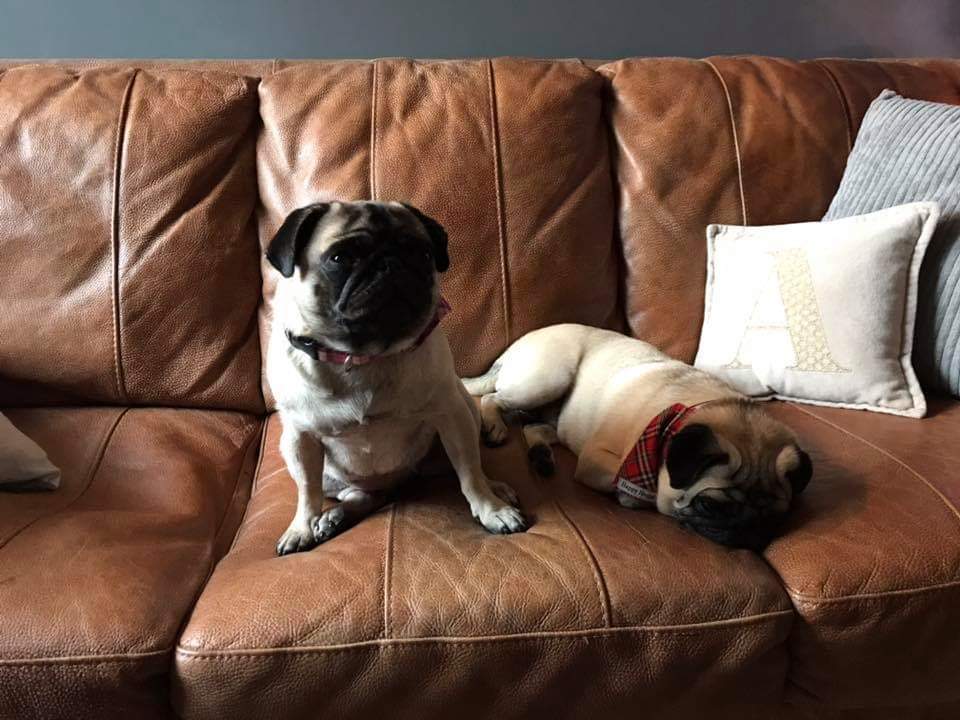 ********************************
Update from their adopters: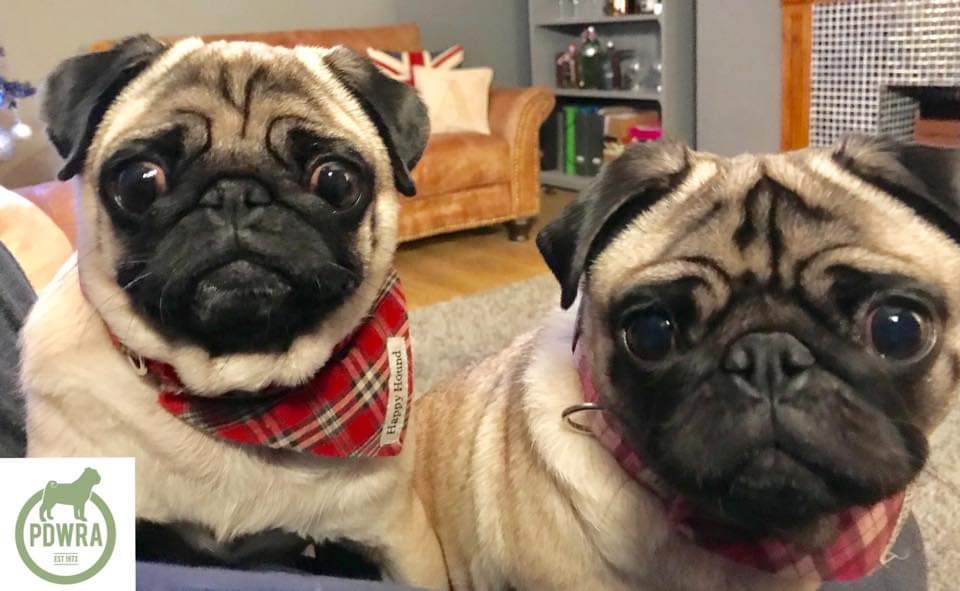 Beryl, Mum 4 (red scarf) and Pearl, daughter 2 (pink scarf) came into our lives over 5 weeks ago, just 2 days after our home check approval confirmation!  The girls were surrendered from a loving home who couldn't give them the attention they needed, and obviously they couldn't be separated.
After 3 weeks in foster care (which felt like a lifetime) as Pearl had bladder stones and had them removed, we drove 3 hours each way from the North East to fetch them.  It was a labour of love and these little beauties have been with us now for 2 weeks.
To say "they've settled in well" would be an understatement.  These girls definitely have made our home their home, and made our family complete.
Both the girls love hugs and kisses … and a snuggle on the sofa whilst watching Emmerdale (hate Corrie, as the Meerkats make them jump off the sofa to bark at the TV!).  They love their toys, and are lovely playing with each other, even if Beryl gets a bit excited and has ripped 2 heads off her stuffed bears!  They love their walks over the park opposite our home, and tell Daddy exactly when they want to come back in!  To say they sleep lovely in their own bed would be a lie, the "snuggle monsters" have made their way into the adult bed and surprise us every night at how spread out these little girls get!
Would love to take this opportunity to thank PDWRA and in particular Jo Smith (North East Rehoming Co-ordinator) for bringing these girls into our lives!
Thank you for adopting and not shopping!