PDWRA is currently receiving an increasing number of requests to find new homes for pugs that need rehoming together.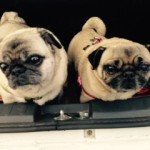 Owning more than one pug can bring so much joy and happiness to a home, but should not be undertaken without careful thought and consideration.  Double the joy means double the expense.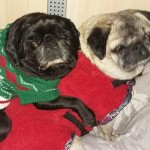 Applicants must be able to provide adequate insurance for the pugs.  Pre-existing medical conditions will normally be covered by PDWRA during the lifetime of the pugs.
If you feel you are able to offer a special home to a pair of pugs, please follow the link below to download, complete and return an adoption application form.
Please clearly mark your application "Perfect Pairs".
Download the Pug Dog Adoption Form [PDF].
Once you have downloaded the form, please print it out and return it to the address at the bottom of the adoption form.