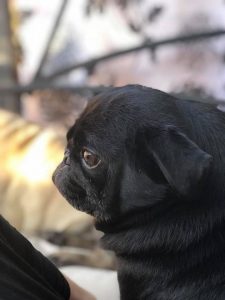 💚 Licorice's Rescue Story 💚 – written by his adoptive mum Hazel.
'This is licorice booboo bear, my first ever foster that I epically failed at giving up and now has a forever home with us.
He came to us over a year back a very traumatised pug. He was 9, didn't know his name or how to play or interact with other dogs or humans and was so reactive it was unreal. He had a broken rib, scarring to the head, a lame back leg, was caged for 12 hours at a time and used for back street breeding!
In all the years I've owned a dog I've never had such a loving devoted dog as him. My little shadow is by my side, always eager to embrace the day with love and meet new people…….so eager he runs head first into them 
 as he's so excited to see them and to share his love.
This is what makes fostering worth every single hardship, to know the difference you make to a dogs life! I am very proud of my booboo bear, he's come a long way and wouldn't be without him and his funny ways. Feeling nostalgic today, hugging him just that little bit more and feeling blessed at having him in my life.'
💚💚💚