Meet Percy … your donations help pugs like this brave little man ❤
Written by his adoring adopter…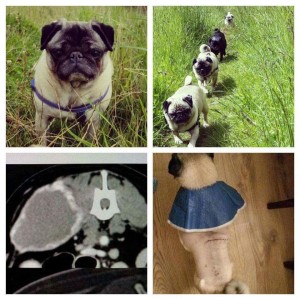 "Meet Mr Percy! He was rescued as a senior with his life long wife Gladys Pugwash! Together they joined an existing grumble of two females. Mr Percy took on the responsibility of looking after the two other ladies, Queen Lulu and Mad Munchkin. Together, they lived an idyllic existence with walks on the beach with Mr Percy pretending he was the Hoff and swimming in the Norfolk sea. When the weather was warm they sunbathed on the patio all day and when it got colder they spent their days lying on the dog sofa by the logburner!  Apart from Mr Percy's humping, all was just perfect in the Playpug mansion.
Then one day, out of the blue, Mr Percy collapsed – his adopter was distraught and rushed him to their local vets immediately. After lots of tests, scans and the vets draining the fluid from his chest, they were informed on the 16th December that their beloved Mr Percy had a very deadly cancer called a haemoginsarcoma. The tumour was massive and wrapped around his 13th rib. Their vet said there was nothing they could do and very soon the tumour would bleed again and kill him. Obviously, his adopters were distraught, how could they say goodbye to such a character known fondly to family as 'Mr Waggytail'? They asked for a referal to Dick White Referrals in Newmarket and they managed to get an emergency appointment on the 22nd December. The whole family took him knowing that this could be his final journey.
Mr Percy took it in his stride, although he was very poorly, he was such a happy boy and his tail still wagged everytime his adopters even glanced at him! His plight was discussed with a wonderful surgeon who told the family that although it was a big operation and the rib would have to be removed, it was worth a shot as Mr Percy was such a happy ten year old pug who wanted to live and clearly still enjoyed life! They were told to leave him at the hospital as there was every possibility he could die on the journey home. All going well, he would be home sometime after Christmas.
On Christmas Eve night Mr Percy was allowed to come home, the surgery was a success and he was doing much better than expected! It truly was a Christmas miracle for this family but mostly for Mr Percy.  Most of the margins are clear and he will have to go back three times for gentle chemotherapy to finish the job. 
The family and Mr Percy (if he understood what was going on) are eternally grateful to PDWRA and Dick White Referrals for taking a risk on this much loved old boy!  The bills are currently over £4,000."