Flo recently came into rescue in a very sorry state.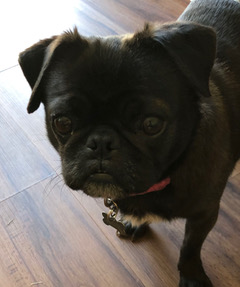 She was initially rescued from a puppy farm by a couple, but sadly her problems were too great for them to cope with.
Flo is only 3 but was used as a breeding bitch on a puppy farm – kept crated for most if not all of the day.
She has numerous infections, some that are quite worrying.
She is due to have surgery to spay her and have further investigations on her bladder and kidneys, whilst under sedation.
If you feel able to help with the vet costs involved, please donate in the usual way – please use the reference "Help Flo".
https://pugwelfare-rescue.org.uk/donating-to-pug-dog-welfare/
You can also make a bank transfer to PDWRA:
Lloyds TSB
Sort Code 30.99.62
Account No. 00144121
*** Update 24 June: Flo has had her spay, and whilst she was under anaesthetic she was x rayed and a very large stone (pictured below) was found. This was immediately removed and Flo is now recovering well and is much more comfortable. Thank you to all who have donated. ***