Tia is my third pug. She came to me after my Auntie Margaret died a few years ago. A fitting last home for her, since I love pugs because Margaret loved pugs.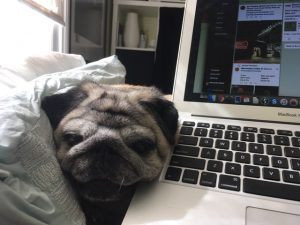 Margaret and Group Captain Ian Keppie became my godparents when my parents were stationed at RAF Valley in Anglesey. Ian looked like George Clooney and she looked like Elizabeth Taylor.  A most glamorous couple. He was a test pilot and equerry to the Queen. Not bad. Margaret was an outspoken, no-nonsense woman from Edinburgh and outrageous in every way. I remember she once bought two pairs of red high heeled sandals because she just couldn't choose between the two.
And she had pugs!
The first I remember was Rosie.  In the summer of 1974 we went to stay at RAF Wittering where Ian was Wing Commander and Rosie had just had puppies. All had been sold except for Oscar who Margaret was going to keep. I was twelve years old and in heaven.
Margaret could count on two hands how many pugs she'd owned since she was a small child. She remembered all their names of course. I lived in the USA for many years and in 2001 felt settled enough to get a puppy. It had to be a pug and that perfect little guy I found was called Humphrey. He charmed everyone he met. Even those sworn to thinking pugs were ugly and lazy were all turned around by him. I very sadly lost him in a custody battle with my ex-boyfriend who thought he should stay with him when we split. I'll never forgive him for that.
When I returned to England, Margaret was on about her 12th pug. A quiet little guy called Hamish. We both howled long and loud when she called to tell me she had put him to sleep. Margaret was then pugless for quite a few years and this didn't seem right at all. "Call the Pug Rescue." I said. "They'll find you a pug. Or email them!" But Margaret was too shy to use the internet so I wrote a letter to PDWRA. In it I extolled Margaret's love of pugs and the love for pugs she'd instilled in me, and in about six weeks Tia arrived on her doorstep. Margaret confessed she was quite pleased she wasn't 'ugly'.  She is very cute.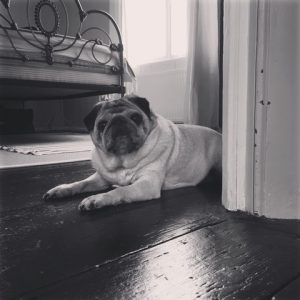 Tia's ageing now, wobbly on her back legs and can't see too far unless it's her food bowl or to sit in a sunny spot in the garden. About six months ago she had a little fit and her back legs went out from under her. Very frightening. The local vet said she'd need physio or hydrotherapy but the practitioners they work with are very expensive. I appealed to Robin and Janet at PDWRA and they told me to call Charlotte Hill (who at the last count has eleven pugs!). Her pug, Phoebe, had had similar problems and she said I must take Tia to Eleanor Andrews at her clinic near Wokingham. Eleanor is an osteo for humans, horses and dogs. She is amazing and the results were instant.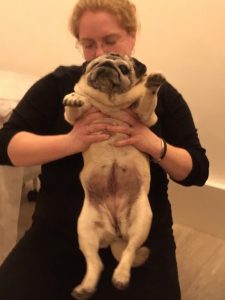 Although Tia will never be 'cured' as the discs in her back are degenerating with her old age, she's doing so much better. I thought there'd be a puggy wheelchair in our future, but that's not been the case yet and may never be. We do the exercises Eleanor prescribed and go for slow, short walks. Tia's enjoying her golden, snoring years in South London and we are so happy to have her.
"Tia and Auntie Margaret" was written by Alexandra Boyd.  Tia was able to be at Margaret's funeral, which was attended by many of her friends from Suffolk.  Janet had met Margaret on a number of occasions, and also attended the funeral on behalf of PDWRA.