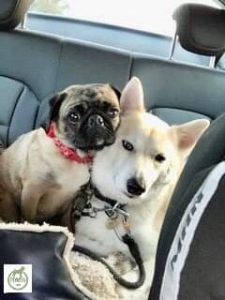 Lulu's adopter, Sophia, decided that a pug would be the perfect addition to her family in summer 2018, and knew that they could offer a rescue the perfect home.
They already had an extremely high maintenance husky, so wanted a smaller breed, but one with plenty of energy to keep up with him.
Sophia has this to say about her experience:
"After applying to adopt online with PDWRA, our Volunteer Area Co-ordinator, Lisa, got in touch soon after and arranged to do a home visit.
Lisa was so lovely and spent loads of time chatting to us and explaining how PDWRA works, and we were told soon afterwards that we had passed the home visit.
We thought we would be waiting for several months for our perfect pug, as Lisa explained that they match pugs carefully as they want it to be their last and forever home.  However, a couple of months later Lisa phoned and said she thought she had found us the perfect match!  We didn't need to see photos because we knew we didn't care what she looked like, but as soon as we saw Lulu we fell in love, and told Lisa to bring her round as soon as she could!
Lulu arrived a couple of days later and was so happy and friendly straight away!  Our husky was a bit unsure at first, but Lulu persisted with him and within a couple of days they were sharing toys, food and even his bed!
Lulu did struggle sleeping on her own at night first, but we followed all advice and research we had found, and she soon settled (especially when we started putting Apollo to bed with her).
She has lost 4 kgs since she has been with us, and is now a healthy weight.  She and Apollo race around outside together, play fight for hours and then curl up and snooze away the rest of the day!
We can't imagine our family without her now, and she is just so easy to look after.  We are already considering moving somewhere bigger so we can fit in another – once you have one pug, you just want more and more!"
Be careful what you wish for, Sophia! 😉