In 2004, we set upon a search for our first pug dog. Our 14-year-old daughter was being bullied at school, and, her counsellor advised we looked into getting a family dog. We did our research, and developed a shortlist of breeds that would be best with our family life style.  One of the breeds was the pug dog – I will always remember my mother-in-law's initial reaction to a pug as an option – "why a pug – they are so ugly".  We live in Staffordshire, and after months of research, my husband found a lady selling pugs kennel club registered in Lincoln. We set off as a family of four, for our 2.5 hour trip one way.
When we got there, a litter of six pups with their mum (pug and human) and a large St Bernard greeted us. We had the pick of four pups, and we popped our little pet carrier on the floor whilst we spent some time with them all – it was hard to choose, they were all adorable. One took my eye – he was the biggest of the four, however, one very inquisitive one went into our carrier. I felt this little chap had chosen us so off we went with our chosen boy. As soon as we were in the car the name game began – "toffee", "fudge", "biscuit" and then one of us said "Walt" – and we all liked this name, as we were fans of Walt Disney World. My husband then said we can't have a Walt without a Disney – and my immediate reply was we could not afford another one. However, like magic he produced more money from his pocket, and so I rang the lady to see if we could return for a second pup – within 10 minutes we were back. I chose my boy who I had picked out before – and so Disney came home with us too.

As new pug owners we had a lot to learn, and on a couple of occasions I spoke with John Smith at PDWRA for help and advice, for which I was extremely grateful. This is how we first learnt more about the work of Pug Welfare and how there were far more many pugs in need than I could ever have imagined. Needless to say as soon as my beloved mother-in-law met Walt and Disney she was smitten and never mentioned them as being an ugly dog again.
In 2012, Walt and Disney were then 8 years old. I was off work for the Wimbledon fortnight being an avid tennis fan. I was watching one of my favorite players of the time, Andy Roddick. Annoyingly my landline rang, interrupting my viewing! Reluctantly I answered it, but oh my goodness was I glad I did. This was the call that led to Aurora puppy aged just 4 weeks, and having just had surgery to remove her right eye, joining our family. Aurora not only needed raising as such a young pup away from her mum pug, she was also recovering from the operation and needed lots of care. She was recovering well but had an awful bout of worms – quite horrific and which made her very unwell. She was a strong little pup and she got through all this. Then suddenly out of the blue when aged 8 weeks old her remaining eye spontaneously rapidly changed.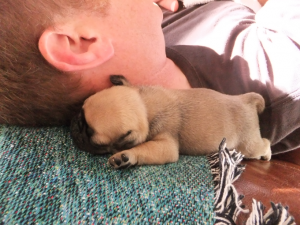 Walt and Disney had both had entroprion surgery before they were 2 years old as they had inward turning eyelashes. We had established an excellent relationship with an eye vet specialist and as soon as I saw Aurora I rushed her straight to their care. They confirmed the eye had a deep corneal ulcer and once fully assessed and treatment options discussed we agreed to intense medical management.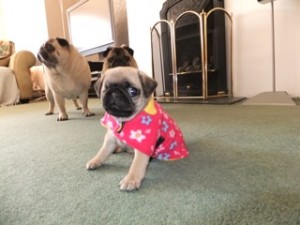 Aurora was then treated intensively in the specialist veterinary hospital for nearly a week and came home on 21 treatments a day, including through the night. We persevered with treatments and reviews for some weeks. Together, we saved her eye and ultimately her sight. PDWRA's advice and support at this time was invaluable.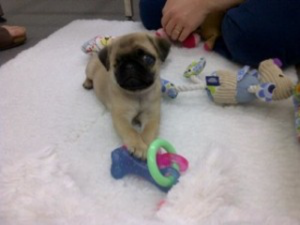 In 2013, due to Aurora's eye being so protruding, we agreed with the specialist to further surgery and arranged for her to have a procedure known as canthroplasty – this would make the eye opening smaller and prevent the eye from prolapsing. Aurora had this surgery whilst being spayed laproscopically.  Sadly Aurora developed an ulcer within a couple of weeks of surgery – this was disappointing, as we had not had any eye problems since those early days. Nevertheless, with intense medical treatment we yet again healed the eye and retained her vision.
In early 2014, we felt Aurora would benefit from a similar aged companion and were fortunate enough to offer our home to Ellie pug. Then we were a family of four pugs and we were all very happy indeed. We thought our pug family was complete! We had also become more involved in supporting Pug Welfare by volunteering our time and support with rehoming activities, fundraising etc, attending as many events as possible.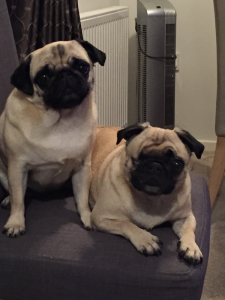 In January 2017 we were delighted to be in a position to offer a home to Baloo for PDWRA, and had a lovely pug grumble of 5.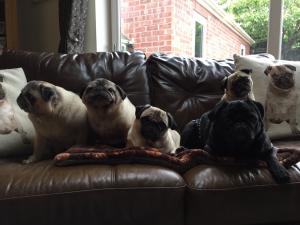 A few months later, Aurora began struggling with her vision and was diagnosed aged 5, with a rapid onset cataract. Her only chance of retaining her vision was even more surgery. We had a date agreed, and as the eye opening had stretched again also agreed to further canthroplasty surgery. Just two weeks before the operation was planned Aurora's eye spontaneously prolapsed. I was at home with her at the time and knew she was in serious trouble as soon as I saw her. I scooped her up and drove with her cradled on my lap the short 5-minute drive to my local vet. As soon as I got there they took her straight into surgery, they managed to replace her eye into the socket and then had to sew her eyelid together to help the eye heal. She was of course instantly blind due to this. I was told she might not regain sight. I updated my specialist vet who had never known a pug with a prolapsed eye regain vision. We had to wait two weeks until her eyelid stitches were removed – we held our breath – as the stitches came out she could most certainly see – although limited of course because of the cataract – that was a most memorable moment! Aurora then continued to be monitored by our specialist eye vet and her cataract surgery was delayed for over six months to ensure her eye could cope with the surgery. Sadly her vision was deteriorating due to the cataract and her personality was changing in adjustment to the reduced vision. It was strange not to see her running and chasing and playing with toys.
Sadly in May 2017, we had to say good-bye to our beloved first pug Walt. Walt had managed for many years with a cervical stenosis and lower spine compression. I had his pain well managed with a careful medication regime that included gabapentin. He also had brachyphalic obstructive airways syndrome (BOAS) – he never required medication or surgery for this, we managed this purely with keeping his weight down. Unfortunately Walt developed a large abdominal tumour – he was not well enough to tolerate surgery and I knew the consequences only too well of leaving this rapidly growing tumour. We were advised to say good bye at home so all the other pugs were aware of what was happening and could say their goodbyes too. Whilst heartbreakingly sad it was also a beautiful farewell – the others were able to be around him or away from him – whatever they wanted, and we pleased to have given our faithful, loving, much loved family member a dignified parting. Rest in peace dear Waltie pug.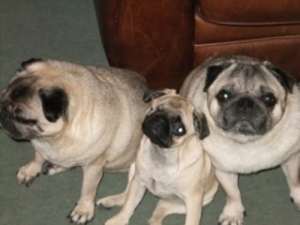 In the summer of 2017, Baloo seemed to be struggling on our walks – he would just suddenly stop for what seemed to be no reason at all. I took him to my local vet for a check up and they suggested x-raying his hips. The x-rays came back as showing Baloo had severe osteoarthritis in both his hips. A specialist opinion was necessary due to the severity of the disease. Baloo had an MRI scan at Dick White Referrals. Despite his x-rays and scans showing extensive disease clinically he was relatively symptom free most days. Again we agreed to medically manage the condition this included an initial spell of restricted exercise, no jumping and anti-inflammatory medication. We now know what we need to do whenever Baloo shows any signs of a flare up of his condition.
Later then in 2017 Aurora finally had her cataract and cathroplasty surgery – all very successful indeed. However, unfortunately Aurora developed another eye ulcer post operatively and this time the advice was to go straight to a corneal graft as the best option of retaining any vision. This was our first experience of a corneal graft – it looked horrific initially but with time the graft darkened and now is very difficult to see unless you look very closely indeed. Our knowledge of pug eye treatments – surgical and non-surgical continued to be extended!
Then in January 2018 we had the pleasure of being joined by Frank, aged 14 years. We had missed Walt dreadfully, however had never looked to increase our pug family – Frank was looking for a home and my heart melted when I heard about him needing a forever retirement home. I was delighted that PDWRA agreed for him to join us. Frank settled in like he had always been a part of the Greene pug grumble – he was over 13kg in weight and could hardly walk. With a lot of effort we managed to reduce his weight to just over 10kg in four months. He was so much more agile then, but he seemed to be struggling with his breathing more and was having very minor epileptic type episodes. We had his chest x-rayed in April 2018 and were horrified to see how diseased his lungs were – it was amazing he was breathing as well as he could. We agreed with the vet to manage his symptoms palliatively, we were determined to ensure Frank was as comfortable and happy as he could be. At this point, the vet felt he was approaching his last weeks of life – Frank had other plans!!! Frank was due to visit for the seaside and Frank was not going to miss out on that!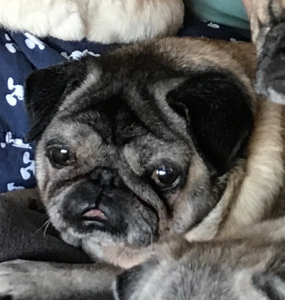 Everything appeared to be going well for our pug gang. We had a wonderful holiday in North Devon late April 2018, Frank and Disney were trundled around in our pug buggy – they were very comfortable together and we navigated the buggy across many sands and dunes to ensure the seniors did not miss out at all. In June 2018 we yet again opened our home to a little girl pug, 8 months old with a spinal deformity – Coco became part of our pug grumble – pugs surrounded us!!!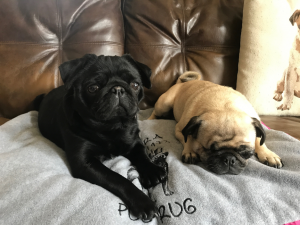 Then in late summer out of the blue something happened whilst I was getting Sunday breakfast together for the pugs. Aurora appeared to have gone blind – literally within minutes. I called the specialist vet team and arranged for her to be seen urgently – this team are a two-hour drive from where we live and I set off as soon as I was dressed! Whilst driving I could see her eye had internally haemorrhaged. My heart sank. I knew we were in serious trouble, again. Aurora was given a thorough examination – however due to all the blood the vest was unable to see in the back of her eye. I agreed for her to stay in the vet hospital for close observations and treatment. To this day we have no explanation for what happened. Fortunately though, after intense anti-inflammatory treatments the eye settled and yet again Aurora's vision was restored.
So, we were all preparing for Christmas when Frank appeared to have a watery eye. Without hesitation off we went to the vet for a check up – a superficial ulcer was the cause and remend drops and antibiotics began. However, Franks eye was not improving and I was becoming more concerned. In consult with PDWRA I arranged for Frank to have specialist review – thank good ness I did. Frank did not have a straight forward ulcer. Approximately half his eye was ulcerated due to a mechanical problem that could not be reversed – very difficult to diagnose unless specific eye tests were done. We agreed to his having a surgical procedure under local anaesthetic as this was the option that was most likely to give him the best outcome and chance of healing and comfort. The procedure went well, Franks eye healed well, we were all happy again.
Early 2019, we faced eye ulcers again this time is was the turn of Disney and poor Frank got another ulcer for no reason and in his other eye. We knew what was needed – more reviews and treatment regimes agreed with the specialist – pug eyes swiftly healed and all comfortable again. Disney though had been kept on his oral anti-inflammatory medicines as he had been in considerable pain. We were just about to finish his treatment course when he sadly developed gastric irritation problems. Despite medical treatment Disney tragically had a catastrophic haemorrhage and died in February 2019 at home in my arms, surrounded by his fellow pugs. Indeed Baloo was very close to Disney and rested his head upon him as he took his last breaths – a truly beautiful whilst also devastating end to another loyal loving family member. Rest in peace sweet Disney pug.
We had a few weeks without having to visit the vets! Unfortunately though, late one Sunday evening Frank had a collapse at home and appeared to stop breathing for a short period of time. He came round but was very distressed with his breathing; I called my local vets who operate their own vets on call system. The vet could hear Frank and asked me to take him straight to the vet practice. As soon as we got there they took Frank into the intensive care area and gave him oxygen and intravenous steroids. After about 30 minutes he appeared much calmer and we agreed to bring him home for love and care as usual. Frank never really picked up from this and I noticed he was more frail and struggling more and more each day with his breathing. With heavy hearts we called the vet out to assess Frank at home on the 11thof April 2019, the vet felt Frank had deteriorated significantly and the strain of his breathing was causing cardiac distress too. Once again I found myself holding my much loved puggy in my arms and said goodbye, again all the pugs were with us and came and said their goodbyes – Aurora gave him special licks, this was so lovely to see whilst also being heartbroken.
We have so many magical memories and I'm sure plenty more to come – seaside holidays together, long group pug walks, fancy dress parades, PDWRA pug parties, supporting PDWRA at their stands at Crufts, including Discover Dogs.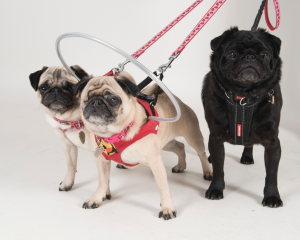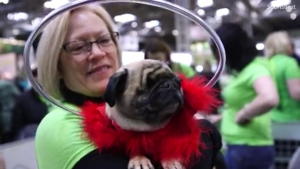 Our pugs have, and continue, to give us immense pleasure and love. There are no words that can express the bond, connection and unconditional love these little furry creatures give us. They give this to us readily, and all they ask in return is for your time and to make sure they have full tummies! They are a truly terrific breed and one I can not see myself ever being without. If you have never owned a pug then you are missing out on something very special indeed.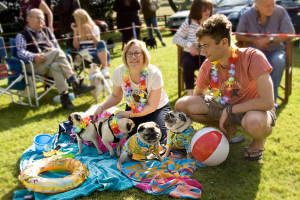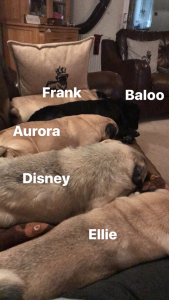 Kay Greene
April 2019