Written by their owner, Annette.
'We have previously been fortunate enough to have adopted a pug through the PDWRA, about 5 years ago. We had our senior pug Honey who was ten at the time of adoption for 4 years, but sadly she passed in October 2017.
Our home felt empty as so did we, but after some time we felt it was the right time to look to adopt again, but this time we wanted to adopt a pair, and here is why.
My Husband and myself work and my son is in higher education, therefore we wanted to be able to offer a pair of pugs a home as we felt that 2 would keep each other company and it would not be so lonely for them in between us all coming and going.
It was the best decision we have made, in mid-January this year we were very lucky to be able to have the chance to adopt our dynamic duo Teddy and Sally.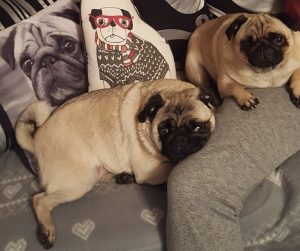 These 2 are brother and sister and bonded from birth. We found that taking 2 in together reduced a lot of the worry for us as they keep each other company when we go out to work, they eat together so meal times is no different from feeding one pug, it is just another bowl. They also go to sleep at the same time which is great, as they are in a good routine to go up to bed when we do.
It is always fun going on a walk with them as they walk so nicely side by side and actually wait for each other when they stop for a comfort break or to eat snow.
Another big thing with a pair is we find they do not stress when going to the Vets as they have each other there, looking out for the other. But do not be fooled that they are one and the same, they are both very individual and also like their own space and time.
Teddy is more laid back and does not want as many kisses, unless on his demand as he tries to act the big butch dog, however he is a total softie and a gentle giant. Sally on the other hand likes to follow mum everywhere when I am home, she likes to get involved in everything.
I would say to anyone thinking of adopting two, to go for it. The routine is the same as having one, only it is 2 mouths to feed, but if you are dishing up one dinner it does not take more time to do two, the same with walks, if you are walking one then you can walk two….
The only thing that I would say doubles is the amount of love you receive and the amount you give out and that is the deal breaker for us.'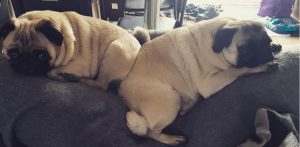 You can apply online to adopt a bonded pair of pugs from PDWRA here.