We thought you might like to re-read the heartwarming story of Bertiebert and Ernie, who came into rescue 9 years ago.
Bert and Ernie, two working stud males, were collected from a breeding kennel in East Anglia in September 2010.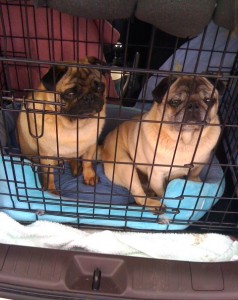 They lived in a concrete run without adequate shelter. No beds, no toys or bones, only a dirty water bowl surrounded by stagnant yellow puddles. They saw a kennel maid twice a day when she gave them a bowl of food, but had no other input except when a "girlfriend" was delivered. They didn't respond to the spoken word; they looked sad and depressed, and the smell of their coats was astonishing. It was the worst case of neglect we have seen.  We had been told that if PDWRA didn't collect them, they would be turned loose to take their chances close to a major dual carriageway.  But the saddest thing of all was that neither of the pugs had a name.
When we phoned the vets to make an appointment for the pugs to be checked over, the receptionist asked what they were called.  Bert and Ernie were the first names that came to mind, and the names stuck. Later on, after a bit of behind-the-scenes detective work, we came to the conclusion that they were almost certainly father and son, and were probably aged about 10 and 8.
Both pugs had dreadful ear mites, and sore, red, swollen ears. Bert (the elder of the two) had had an untreated trauma to his eye, resulting in puckering and permanent damage to the eye, with significant sight loss.  His nose wrinkle was raw from untreated infection. Ernie's foot was bleeding from a cherry tomato sized cyst between his toes.
Both pugs displayed disturbed behaviour from sensory deprivation… we decided to crate them separately.
Neither pug had ever been indoors, but they quickly adapted to indoor living, although there was significant marking for the first week.  Both pugs displayed disturbed behaviour from sensory deprivation and boredom, and although they had lived together, it became apparent that they had formed a bully/victim bond, which was not healthy. Bert's "gentleman's area" was terribly damaged from constant humping, getting stuck and then scraping on concrete. After a particularly painful session for poor Bert we decided to crate them separately, but next to one another.
As the days passed, the boys had a gruelling regime of eyedrops 6 times a day, iodine nose wrinkle washes twice a day, ear cleaning and meds twice a day, foot soaks 3 times a day, and basic housetraining and recall lessons in the garden.
Ernie (the younger of the two) was a very anxious pug.  He was even afraid of cuddly toys, and if you raised an arm near him, he would hit the floor and refuse even to look at you.  What a delight to see him relaxing and even starting to play in the garden!  The DAP plug-in helped him enormously, and went with him to his new home.
Bert developed a very nasty, deep gurgly cough a week after collection.  He really struggled with the cough, and needed hot water bottles and cough meds day and night, on top of all his other meds.
Ernie gained in confidence and his foot healed nicely with salt soaking and antibiotics.  After almost 3 weeks separation from Bert, their dividing wall was removed; but immediate growling and raised hackles from both pugs was an indicator that they would certainly need to be rehomed separately.
Housetraining came along nicely, proving that you can indeed teach an old pug new tricks. They were also getting used to walks outside, on a harness. They were neutered, and Bert came round from his dental with sweeter breath but very few teeth left in his mouth!
Weeks passed and finally both pugs were healthy. They'd learned their house manners, and got used to all the strange noises of indoors and outside in the big wide world. They'd learned to play with toys, and cuddle on soft beds; they'd look a person in the eye; they smelled good, and they were ready to find out what it meant to be loved by a family.
…those of us who were involved in their rescue were to be found surreptitiously sniffing and mopping our eyes.
It's always hard to hand over a foster pug, but Bert and Ernie had the most wonderful families waiting for them.  Bert (re-christened Bertiebert or BB) moved to Surrey to live with Julia and her 10 year old pug Delilah.  Sadly Delilah died just before Christmas 2012, and poor BB is feeling a bit lonely at present.  We are keeping an eye out for a suitable puggy companion for him.  Ernie lives in Essex with Debbie and her lively young family, along with several other dogs and cats!  And it's been such a joy to see the pugs since their departure; they have been able to meet up again on a couple of occasions at the Crowhurst garden parties, when those of us who were involved in their rescue were to be found surreptitiously sniffing and mopping our eyes. Surely BB and Ernie never dreamed, in their cold, wet concrete run, that such happiness was possible.  The love shines like a beacon out of both these pugs.
Written by Almandine Stidwill, to whom we are enormously grateful for nursing Bert and Ernie back to good health with such loving care for many weeks at her home.
Edited to add: Sadly, Bertiebert and Ernie are no longer with us.  Both pugs were greatly loved by their adopters, and are much missed.  Both pugs are pictured below.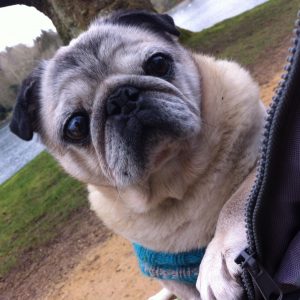 Bertiebert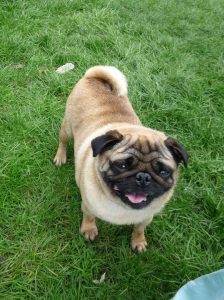 Ernie