Portia was only 3, yet in her short life time, she had had 4 homes, through no fault of her own.
Portia had originally been owned by a breeder, and had had one litter of puppies. She was no longer needed by the breeder, who sold Portia on the internet.
Unfortunately, she was bought by someone who had mental health problems, and within a couple of months, was taken in by the RSPCA.
Portia was then adopted by an older couple, where she stayed for 5 months. Unfortunately, in that time, Portia put on 2.5 kg, and although quite clearly loved, the couple realised that she was unsuitable for them, as the husband was disabled, and was very concerned he was going to trip over Portia.
Portia was taken into foster by Helen, who is PDWRA's Veterinary Adviser and also a Trustee, and her husband; they found she was a wonderfully sweet natured, loving and playful dog, who would make a very special pet for someone.  However, she was very unfit due to her weight, and also breathing problems from an overlong soft palate. Portia was put on a very strict diet, and soon lost her excess weight.
The 3 photos below were taken when Portia was in foster.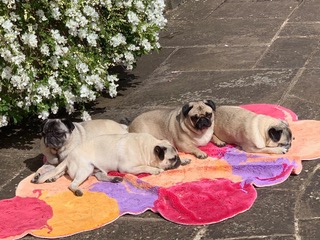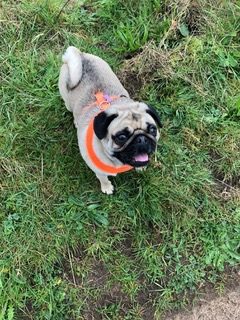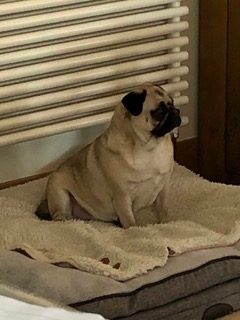 Within 3 weeks, she headed to her forever home in Devon, joining an elderly pug sister.
Portia is now 7 kg and looks amazing. She is quite clearly adored, and her new owners are besotted – she is very much part of their family.  She is booked to have BOAS surgery in June, which PDWRA will pay for, and once done, along with her weight loss, Portia will feel a new dog!
Some photos of a much slimmer Portia in her new home.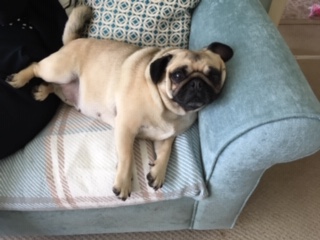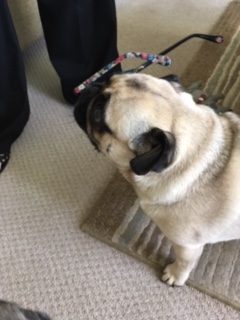 picking up her owner's glasses when she dropped them!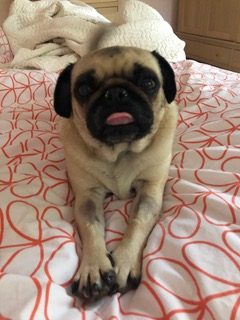 and after her very recent BOAS surgery when she went to stay with Helen for a few days while she recovered – you can see the stitches in her nose.
Portia has finally found her forever home- she won't ever need to move again!