Pollyanna and Primrose – why adopt dependent pugs?
Written by their owner Dave.
 Primrose & Pollyanna picture above – 'before'
I picked up Pollyanna and Primrose, two emotionally dependent sisters, from Ponsanooth in Cornwall on a cold and drizzly late Sunday afternoon in March. I understood they had been rescued from a puppy farm in South Wales where they were had both had several litters and, according to veterinary opinion, had been over-bred. Their living quarters was no warm, centrally heated house but a concrete outbuilding which they shared with a number of other females. They did have access to a concrete area outside. It seems fair to assume there was little in the way of play or contact with humans. It is most probable what they had experienced fell well short of the most basic level of life that dogs should be able to expect.
I'd just lost my own rescue Pug and although I didn't want to take on another dog just yet, (let alone two), I had agreed to do some temporary fostering. Somewhat selfishly I hoped it might take my mind off my own loss. Homes had been found for the single dogs which had been rescued. I could understand prospective adopters being a bit apprehensive about taking on two rescued pugs.
The sisters were friendly enough but to be brutally honest, they were stinking. We drove back with the windows open in an attempt to negate the smell. On the way home they huddled close together in a cage we had brought for the purpose. I doubt they had ever been in a car before coming down from Cardiff to Cornwall earlier in the day and they probably didn't have a clue what was happening to them. Now they were in a car again and would have had no idea what to expect. All they had at that time, and I suspect prior to that, was each other. Emotionally I am not sure what damage it might have done to separate them – especially at that stage.
When we got them home the first thing we did was bathed and fed them. Their bottoms were stained orange where they had sat in their own urine and faeces. It took a number of baths to get them back to something like their normal colour but they did smell much better after that first immersion. That Sunday night I deflea'd them and wormed them on the Monday. There was enough wildlife on them as it was and we had to get a special shampoo from the vets to kill off the mites both were infested with. Understandably neither was house trained. With Polly it came quickly but Primrose took longer. Fortunately Polly helped to train her sister.
That first day I wrote. Primrose is so small – you can't imagine how she could have had puppies. Her ribs are plainly visible. She is very highly strung. Just paces in circles and marks continually. Polly is bigger but still undernourished and has a breathing issue of some sort. Her belly sags almost to the floor and her feet splay out sideways. She looks a sad and pathetic little creature. Good words to describe them both would be, "woeful and bedraggled".
They look after each other although it's really Polly who looks after Primrose. She cleans her and comforts her. Polly seems more like a mum than a sister from the same litter. Prim depends on her totally.
The first morning we had a little walk around the block. Then we went down to the beach then up to a field and off lead for a bit despite dire warnings not to. They loved it and they wouldn't stray from my side or from each other. It was sensation overload all day long. They were learning and sensing new things all the time and it was strangely gratifying to see their delight and wonderment. Grass, sand, the warmth of the sun, cuddles and affection – all stuff most dogs would take for granted and they had probably never experienced. There was a LOT of low riding from both. Anyone could tell they were really happy. Primrose would run in circles while Polly just seemed to bounce and prance and had this gappy toothed grin on her face permanently. The first couple of days it became obvious that they had no idea how to play with toys or with each other. Several weeks on they are still not interested in toys but will play fight a lot.
They are both exceedingly happy and that in itself is really rewarding. The only small issue was that Prim continued to mark. Looking back I think she was just insecure and wanted to mark her territory to let others know that this was her home.
A couple of months in and things are good. The girls are unrecognisable from the woe begotten bundles of fluff that arrived in March. They are well behaved although Primrose in particular has become very adventurous of late. When I am on the computer they curl up on their bed and wait for me to finish. We walk a lot and they are thriving on it. The vet has commented on how good they both look. Primrose has put on a little bit of weight but is still slim although far more muscular than she was initially. She loves to run and run and run and is exceptionally fast for the breed. She is always chasing other dogs on the beach. God only knows how far she travels in a week. Polly is more muscular again and her tummy has shrunk and she looks good but she still has the splayed feet which if anything make her even more endearing. What is really striking is just how happy they are and that level of happiness seems to increase on a daily basis. They've changed from the timid and frightened little things we picked up a couple of months ago into bundles of fun and energy. It's like they are living the childhood they probably never had.
Neither dog barked for the first two months they were with me. Now both will warn me of anyone approaching the house well before the door bell rings. I believe it is a sign of their growing confidence and increased sense of belonging.
The biggest surprise about having two dogs is that it seems so much easier to look after them than it did looking after one dog. They keep each other company. They play and sleep together which gives me a break and of course, they are best mates. I found it easier and less worrying to go out and leave them as they have each other for company and are less likely to suffer from any sort of separation anxiety. The longer they have been with me the easier and more fun it has become.
If anyone has concerns about taking on two dependent pugs please don't worry. In many ways it is far easier than just having one dog. We would avoid separating two dependent humans if that was possible, a mum and child or siblings – it's really no different with pugs. I can honestly say that I have never regretted for a moment taking on these two rescue pugs at the same time. In fact I often think how fortunate I am to have made that decision at the outset. It really is double the pleasure and a lot more besides. I would have no hesitation in doing exactly the same again and would give that advice to anyone considering a double option but being unsure as to what might lie ahead.
Several weeks ago I took these waifs in for temporary fostering. Now they are adopted and I wouldn't swap them for the world.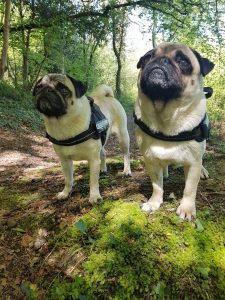 Primrose & Pollyanna now
Part 2
Written by their owner, Dave.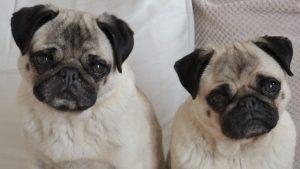 They say that "time flies" but where on earth does it go to? I've just realised that Polly and Primrose, who came to stay for a fortnight back in early March, have now been with me for almost 5 months.  
Recently the girls have taken to sleeping on the sofa upstairs at night. Then, anytime between 2 and 4 am they'll come downstairs and jump up on my bed and stay there until about 6 or 7. At that time they walk all over me in an attempt to get me up and feed them. My partner Kate got me a Fitbit for Christmas. Amongst other things it records my sleep patterns. Quite bizarrely, my deepest and most restful periods of sleep occur when the pugs are on the bed with me. I had no idea they would bring such benefits with them! 
As I write in late July, we've been lucky with the long, hot summer here in Cornwall although a bit of overnight rain to dampen the dust wouldn't go amiss. Being on the coast we haven't had the searing heat that some inland areas have experienced. 
The girls and I get out every day for two or three walks – often with Auntie Katie and cousin Peanut. Where and how far we go depends on how hot it is but in the early morning or evening we usually end up on the nearby beach. I've just got to pick up their harnesses and they are jumping about ready to go, jostling one another to become the first to be dressed. They pull like a couple of mini huskies on the way to the beach, knowing exactly where they are going. When we get there and let them off the lead I am often treated to some "low riders" and both of the ladies have these silly grins on their faces. Little wonder as it's got to be better than when they spent their days in a concrete outhouse. 
Slim Prim, the speed machine, still runs in her circles, appearing to float over the ground effortlessly, happy to chase any dog who will tolerate her. She's put on more weight and has become quite muscular but she can still be a little highly strung. She's very much my little girl and needs lots of cuddles and reassurance. I sometimes call her TSB – short for, "Two Scats Behind", which is Cornish vernacular for always bringing up the rear, she's always sniffing somewhere, then realising we have moved on, hares after us. Mind you, this is a marked improvement on the times I turn to see her on her back, legs in the air and writhing in ecstasy in a cow pat or fox pooh.  
Polly is the physical antithesis of Prim and has the balance of a drunken hippo. She seems a little "top heavy" and unstable but like a cyclist, the faster she goes, the more stable she appears to become. She is shorter in the leg than Prim but built like a tank and when she decides to step on the gas she is seriously quick and can hold her own with Prim and Peanut. At medium speeds her legs seem to splay everywhere and she looks as if she's about to collide with herself. That grin is always on her face when she runs – perhaps I ought to rename her too, "The Happy Hippo".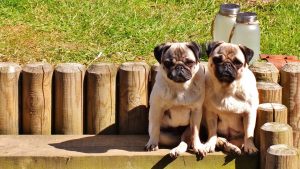 We spend a lot of time on the beach and Polly took to the water really quickly. We'd gone down one warm evening in June with the tide almost high. There was a comforting warmth in the evening sun which bestowed one with a sense of well being. At one point the beach sloped into a shallow pool about six inches deep then rose again onto a small sandbar. I walked out onto the sandbar and called the girls. Prim stepped daintily and with some trepidation, gaining in confidence as the water shallowed again, to join me. She got there and I was quite proud of her knowing what a drama queen she can be. Polly, somewhat surprisingly, walked back up the beach. When she had got about ten yards away she turned, pinned her ears back and just flew at the sea. A big bow wave spread out as she entered and she just seemed to overpower the water. There was spray everywhere! She got out on the sandbar, soaking wet and happily bedraggled with that endearing toothy grin of hers spread from ear to ear. That first time tears of laughter ran down my cheeks. Now, although I've seen her do this many times, it still cracks me up.  I'm hoping that Kate has captured her aquatic antics on video somewhere. 
Most evenings now we tend to end up in the water. The girls go in of their own volition – they just seem to enjoy getting wet. Perhaps it helps cool them down a little. At other times we might walk along a nearby wooded and shaded valley, next to a babbling stream and up an ancient pathway to a viaduct before we come home on a different track. It's shady and cool and enables us to get out of the sun. The stream helps keep the air moist and the temperature down. There are access points to the water where the pugs can get in and have a drink or a paddle as needed. If we are lucky Kate packs a picnic, if not I always have a pocketful of treats to reward them with. These are halcyon days; days we wouldn't have without the girls.  
I spoke about the benefits of having two dogs in my last blog. When we're out walking they have each other for company. They sniff about together, racing to catch up when they've fallen behind. They are so happy. While it is by no means obligatory we get out two or three times every day when we can, walking around 50 miles in a week. That may be considered excessive for a pug but split up, they cope with it easily. As well as the beach and valley we have the Heligan and Lanhydrock estates close by and a field within a quarter of a mile which is convenient when time is short or last thing at night. There are coastal walks all around us. I've never felt fitter. If it weren't for the girls I would be sat in front of the television. The happiness they display is contagious. I often find myself laughing out loud at their antics. When we are out people always want to stroke them and they act as a conversation starter. I have made many more friends than I would have done otherwise as a result of having these two with me.  
If you're thinking about taking on a pug then stop prevaricating and just fill in the adoption form. It will be the best and most rewarding decision you will ever make. There are rescue pugs to suit most people's lifestyles. 
Part 3
Written by their owner, Dave.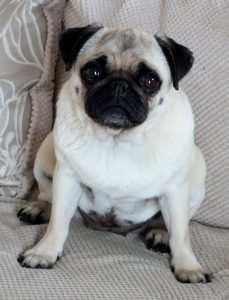 'There is a saying about never working with children or animals if you want to avoid public
humiliation and embarrassment.
The end of June heralds Par Carnival week and on the Saturday we have a parade through the village
which always attracts a good turnout of both spectators and floats. I'd been working on the patio all day but managed a quick shower and with the dogs in tow we headed off just in time to watch the festivities. It was the usual great effort for such a small village with local brass bands and fairy queens in attendance as well as a variety of other floats. We watched for a while with Polly and Prim enjoying the attention they were getting from other spectators. After a while boredom set in and they were pulling at the lead so we decided to walk down into the village and onto the beach where things would be a bit quieter and they could run free and unfettered.
We dashed across the road between the Indian Queens fairy queen and a lorry loaded with a number of Elvis lookalikes. Half way across the road and under the front wheels of the lorry Polly dug her heels in and decided to do a number two on the white line!! Everything ground to a halt as she went about her business with the crowd cheering and yelling encouragement. I was mortified but when a pug digs it heels in there is little you can do but wait and have a bag ready. I was left red faced at Polly's timing but mightily relieved that I had remembered to bring some pooh bags. I breathed a sigh of relief at the conclusion of her business, gave a shallow bow to the spectators and we trotted off down the hill. Perhaps I'm overly self conscious but in situations like this I just wish I could be anywhere else.
That was when I heard my name being called. It was some friends on the other side of the road beckoning us to join them. We bided our time and as coincidence would have it we once again nipped across between the Fairy Queen and the Elvis lookalikes. Unfortunately the coincidences didn't end there…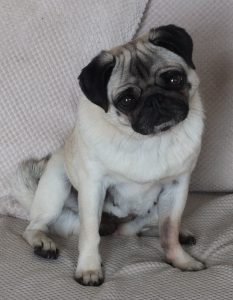 … as another pair of heels dug in and I looked around to see Prim taking a leaf out of her sisters book and also going about her business on the white line. I pulled but there was no shifting her. Again we had cheers of encouragement and the driver of the Elvis float beeped his horn repeatedly just to make sure no one was unaware of what was happening. Once again I have never been so grateful to find a pooh bag in my pocket but the relief was far outweighed by the double dose of public humiliation. They say lightening never strikes twice in the same spot – well it was bl**dy close to it. Next year I will make sure both have gone about their business before we venture out.
I would like to add one final note on the subject of this blog. The girls have recently visited the vets to have their anal glands expressed – a messy but necessary undertaking which helps keep them healthy and your upholstery clean. Although I've been told this is a job which falls within the realms of DIY I much prefer to leave it in the safe hands of our veterinary nurse who is a well practised exponent of the task. Both the pugs were also weighed. Prim came out at a healthy 5.5 kilos – a significant increase when one considers she was four and a bit kilos and her ribs were showing when she arrived. Polly weighed in at a buxom 6 kilos, an increase of half a kilo but tells me it is all muscle!'
Part 4
Written by their owner, Dave.
'Our wonderful summer continues. I'm certain it is hotter than in '74 or whenever it was. It makes you want to get out and appreciate this wonderful world we live in. If you are fortunate enough to live near the coast of Cornwall then you are doubly blessed.
The day, like many others, started early with a breakfast of kibble for the pugs and weetabix, dried fruit and a cup of tea for me. I listened to the news on the television while I caught up on my correspondence and the pugs, after their breakfast exertions, were snoring contentedly on their bed in the early(ish) morning sunshine.
At a warm and windless eight thirty a.m. we made our usual pilgrimage to the beach. It was relatively quiet which makes this time of day all the more special. The sun was up; comfortable for now, not too hot but starting to warn of what was to come. Both the girls did their business, had a paddle, splash and run around in the shallows before we left for the relative cool of home and our mid morning snack. The pugs have a dollop of live, low fat yoghurt with a little fruit. Its healthy eating in my household, at least as far as the girls are concerned.
They spent the rest of the day alternating between sleeping in the warm sun and in the shade under my chair on the patio. I read a book, drank tea, ate chocolate oaties and listened to test match special on the radio. Fortunately life doesn't get much more hectic than this although at one stage I did contemplate getting out the furminator and giving them a groom. Fortunately that thought soon passed.
In the evening, well fed and rested the girls were bouncing about again so we went for a stroll through the village, over the playing fields and on to the local pond, which is actually more of a small lake surrounded by leafy, mature trees and is quite breathtakingly beautiful. A couple of lads were fishing and carp were dimpling the surface in the evening sun. A few ducks were squabbling noisily over some bread a family were throwing to them. It was an idyllic scene. There were lots of new smells and probably a few old ones from the last time we had been there. We walked around the lake, on through some woods, where the sun filtered through the high canopy, then along the canal path, over the railway line and back to the village.
Walking through the village, instead of going home as intended, we decided to wander down by another stream, through more shady woods and onto the beach. Here the stream merges with two other streams to form a river which runs down one side of the sands. The tide was a big spring and high. The sea had backed up into the river which was probably around fifteen metres wide and several feet deep at this state of the tide. To our left was thick undergrowth barring our passage and to our right an expanse of water doing the same. We could, perhaps should have turned around at this juncture but I thought there was just enough room to get through . . . . . at a pinch and if we were careful. A safe passage necessitated climbing over and around some grassy hummocks. I calculated that it was probably doable. I could carry the pugs if they baulked at any stage of the passage; it seemed like a plan.
My plan hadn't catered for Polly adopting a different approach to the problem. Running down the path she leapt across some water and up onto a grassy hump. From there she launched herself straight into the river which was around five or six feet deep at the point of entry. My first course of action was to panic and go in after her but she bobbed about completely unfazed, had a look around, then with a leisurely doggy paddle made her way back to shore further down the beach. She ran / swam back through the shallows and upon climbing out had a shake and sat down. She was showing what is left of her teeth, in her, "I deserve a treat for that", approximation to a smile. I gave her a piece of tripe stick which she devoured with relish and then promptly repeated her new party piece in the hope of further recompense. Not to be left out Primrose followed suit.
A guy with a spaniel was cracked up watching and ventured that he didn't think pugs were meant to do that sort of thing. I didn't either but have seen my partners pug do it in the past. One winter she leapt into a freezing cold pool on a beach near Newquay and another time straight into my koi pond. On another occasion when I took her fishing with me she jumped in attempting to retrieve a fish I had just returned. Another local pug owner has hers follow her into the shower.
On the beach proper the pugs chased the spaniel in and out of the water much to the delight of each other and a number of onlookers. Spray seemed to be flying everywhere and all three were well and truly soaked when the carousing came to an end.
The Pugsters were shattered and they were not the only ones. All this tearing about had made me feel quite exhausted and a tad thirsty so we stopped at "The Ship" for pint of Tribute on the way home. Purely medicinal of course – to replace the fluids I had lost watching the girls.'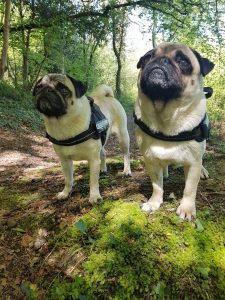 Primrose & Pollyanna now
Part 5
Written by their owner, Dave.
I've been meaning to give an update – but you'll know how things can get in the way.
When I started to write this it was as long ago as late October 2018 and we were in that post summer period here in Cornwall. The weather had been generally good and settled and the leaves were starting to give a hint of their autumnal colour. With the searing heat of the summer little more than a fading memory we were able to get out for walks at anytime of the day. With the pathways still dry it was a magical time of the year. The Luxulyan valley was especially beautiful and we took several walks besides the stream there. It's a four or five mile walk up to the viaduct and back and as there are a number of different routes you don't have to retrace your steps on your return. It's also downhill on the home stretch which is a huge bonus. I think both the dogs and I appreciate that.
I can remember our first storm of last Autumn. Overnight and in the early morning it poured down and winds were gusting at 60 – 70 mph, straight off the sea. The rain abated late morning and I took the opportunity to take the girls up to the nearby field for their personal business. It was quite a task to persuade them to go as both were initially reluctant to leave the confines of a warm home.
Once out and with the wind blowing, they became really excited and pulled hard at the leash. I think if I'd attached them to a small sled they would have pulled it quite easily. On arrival at our destination I slipped them off the lead and both tore off around the field with gay abandon. They charged about non-stop in large and small circles, one in front and then the other, criss crossing and zigger zaggering, alternating from low riding to conventional sprinting, scurrying and scampering and rolling about at the base of the hedge where drifts of fallen leaves had accumulated. Once Polly disappeared under the leaves completely only to reappear, give a big sneeze and disappear again. Their delight and happiness on such occasions really is something to behold and their antics far more amusing than any comedy show.
Come early November and storms blow in with a vengeance, one following another. High winds seemed the order of the day and we had a lot of rain. It was dark when we went out for our final walk at around 9 pm. The rustle of the treat bag means they are usually keen to go although Polly sometimes takes a bit of persuading. When it's raining I usually have to chase her around the house while she quite literally grumbles and groans – probably about going out in the rain which is odd as she would still jump into the sea without hesitation given the opportunity. Primrose, on the other hand, would go anywhere at any time in any weather.
February was the hottest on record. The pathways dry and affording the opportunity for walking just about anywhere. We've been getting out at least twice, maybe three times a day if I include their bedtime business walk. I'm looking forward to when the clocks go forward in a couple of weeks and we get the light evenings. The biggest bonus will be that I don't have to hold a torch in my mouth while I attempt to unravel a pooh bag.
The second week in March and we've been together for a whole year. The minor traumas of house training are long forgotten as we have adapted to each other. There's been a bit of give and take which I guess has to be the case in any relationship if you want it to be successful. It's probably fair to say we all evolved a little or maybe I just indulge them too much. Perhaps it's truer to suggest they let me know what was expected of me.
Even now I'm still not convinced that Polly and Prim are sisters. Polly has a maternal way of being. She is constantly grooming Prim, tolerating her when she's mischievous and sometimes scolding her when she steps over the line. If another dog shows any hint of aggressive behaviour towards Prim then Polly is straight in. I think Polly could be Prim's mum rather than sister. I guess I'll never know what their relationship is but I would like to have their connection clarified.
Primrose, my dear little highly strung Primrose who I can reach out and touch at any time of the day or night, has taken up the male role of the pair. At sometime in the autumn she started to cock her leg sideways when she did a whiddle which I'm reliably informed by my stepdaughter is a male trait. Polly is more ladylike, squatting decorously, back straight as a guardsman's in order to get into position. In the course of a three mile walk Prim is likely to do this forty or fifty times while for Polly, once is enough. No doubt Prim is marking something or other. On occasion she can be terrified by a rock or the wind rustling a bush and I have to pick her up and carry her past while she barks a challenge, safe in my arms. With some decent food her frame seems to have grown and she now weighs in at around 6 kilos of pure muscle. She was significantly under five kilos and a bag of bones when she first arrived.
Polly was heavier but flabby and saggy. Now she's solid and powerful. She continues to appear as if she has the weight of the world on her small shoulders, when she's not cavorting like a spring lamb. It seems to be one extreme or the other. Perhaps she's a bi polar pug! Like me, going uphill is not one of her favourite pastimes. We probably allow each other the excuse to slow down a little in that situation.
A month or so ago Polly picked up a toy for the first time. Now Prim has followed suit. I don't know if they had been given the opportunity to play before – or even given toys for that matter. It's reassuring to see these small developments in their character.
My partner had given me a Fitbit tracker for Christmas 2017 which I finally set up for use in March 2018 just as I got the girls. In that time, a period of twelve months, we have covered over 2200 miles. I expect Prim had done three times that. If someone had suggested that I would be walking that far at the outset I would have laughed at them. It's surprising how the miles tot up over the course of a day, week, month and twelve months. I'm not suggesting for a moment that this should be "de rigor" but these two cope easily  so if you want to do that extra mile  . . . . . . . you could be the biggest beneficiary.
We had our first proper vets visit last week when Prim, chasing a Labradoodle, got a claw stuck in a gap between a couple of brick pavers and ripped it out. There was blood everywhere. Apparently this sort of injury is typified by a lot of blood letting but at the time I was unaware of that. I did a really poor job of bandaging it up with a handkerchief and some gaffa tape. While it did help stem the flow I won't be pursuing a career as a veterinary nurse. We rushed to the vets who told us that it was a minor issue, the claw would grow back just like a fingernail, replaced the bandage, (which came off after ten minutes), and charged us a small fortune which was a few pence below my insurance excess. . . . . . . but Prim was going to be ok and that's all that mattered.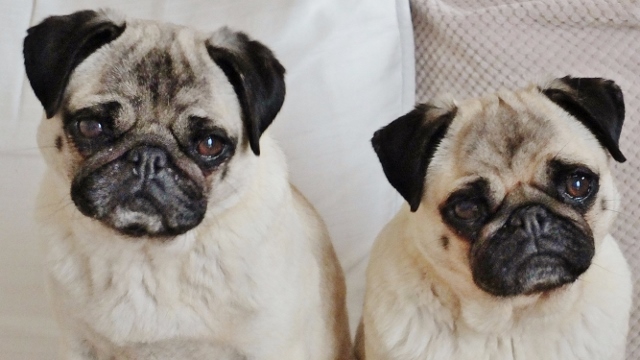 Part 6
Written by their owner, Dave.
Recently we visited the vets again. It was the girls' annual check up on their Kernow Vetplan membership which enables "free visits" to the veterinary nurse and no charge for worm and flea tablets or their regular injections. Being Cornish I like to get my money's worth and Polly and Primrose both need to have their anal glands expressed on a regular basis which is covered in the plan . . . . . . I try to convince myself that the Vetplan may be good value but the jury is still out.
I had the usual wrestling match trying to hold Polly down while the "veterinary nurse" attempted to go about her job and get the business completed. It was like trying to hold down a furry eel but we got there in the end! Primrose is a little easier to deal with – "little" being the appropriate word. It's still a mammoth task trying to pin her down but she's not quite as strong as Polly. Goodness only knows what it must be like trying to hold down a Rottweiler but more on that breed later.
Part of the examination involved their teeth and both had signs of plaque and tartar which I'm told will require a scrape and polish as a minimum. We're booked in and have been given an estimate as to the cost . . . . . . . which I thought must be for a pack of huskies although it turned out to be for just the one puglet – ouch!! I'm told that is a worst case scenario. I guess oral hygiene wasn't a priority in the puppy farm they were at prior to being rescued by the PDWRA and coming to live with me. If it needs to be done then it needs to be done. I've tried to clean their teeth myself but gave up on it after a few aborted attempts in favour of dental sticks. Given the recent examination, these don't appear to have been at all successful.
I was also told that both were overweight which is staggering considering the distance they walk each week. I don't think I over feed them that much. . . . . . . . at main meals anyway . . . . . . although treats are another matter. I enclose a couple of photos and leave you to decide.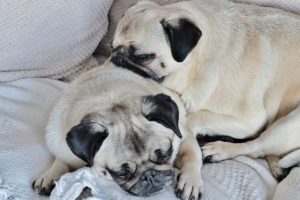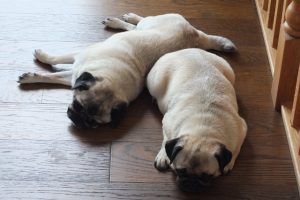 Polly was thoroughly hacked off by the whole experience and when we returned to reception launched a totally unprovoked attack on an enormous male Rottweiler. Fortunately the Rotty was so shocked it backed off and I was able to restrain Polly before she was swallowed whole. It was scary stuff. The Rotty survived the attempted assault far better than I survived the embarrassment associated with my pug's actions!!