Norman found his way into our care as the resident dog didn't appreciate his endless enthusiasm and pug washing habits.  After a short spell in foster, Norman has now been adopted into a wonderful family.
Norman joins two other PDWRA rescues, and has found one particular friend in Bella who truly appreciates his youthful energy.  Bella and Norman spend much of the day together playing raucously and dismembering toys, while the older pair sleep the day away.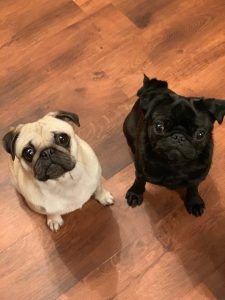 His adopter says:
"PDWRA have brought more than words can say to our little grumble".