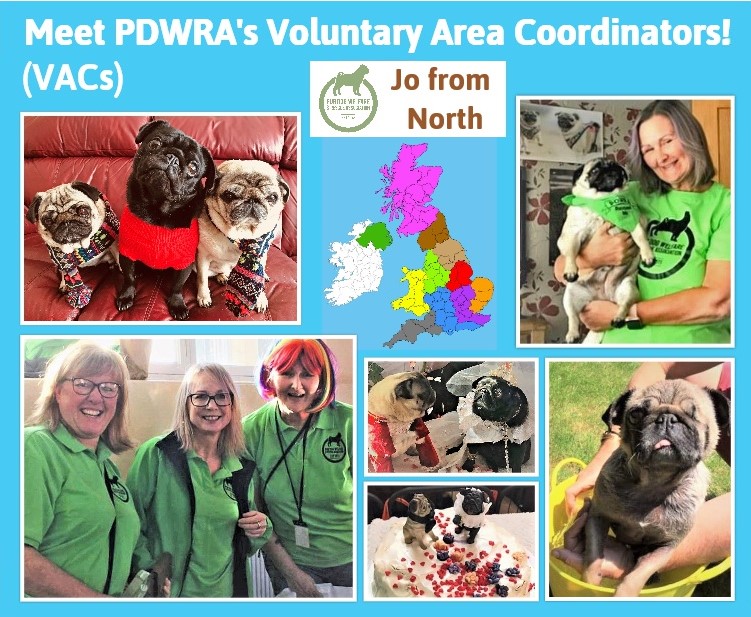 Our penultimate VAC story, comes from Jo, who enthusiastically, with humour and sensitivity represents the North East. Here's Jo's story:
"5 years ago, I was asked to foster a pug, Rosie, for the charity. This was a few weeks after unexpectedly losing one of our beloved pugs Bella. Within days I was a 'foster fail'. Rosie and I knew that she 'had come home' and we have never looked back since. She was a clown on all levels, full of life, a toy maniac with a tail like a helicopter – she helped to heal all our broken hearts. We even forgave her penchant for 'swearing' which she still does under her breath when she can't get her own way.
A few years later I saw an appeal on Facebook for volunteering for PDWRA and was keen to give something back. I had a training background and was lucky enough to be able to work from home a good deal so decided to go part-time leaving me time to volunteer and help out the existing VAC, Jackie. She was also learning the ropes as we hadn't had much coverage for the North East, so it was a perfect fit for both of us working together. I've been 'learning the ropes' for a couple of years now!
I used to enjoy crafts like Cross-stitch but fine needles and concentration with pugs balanced all over your extended lap isn't great…plus the additional pug hairs ruin the pattern. My day job is with the Citizens Advice Bureau and lockdown has meant we are fixed up to take calls from home for the Adviceline – which is perfect for our 3 pugs, Betty, Rosie & Donny, although I do find myself explaining to clients that the snoring they can hear isn't coming from me!
Betty is our 'first-born', she was 16 months when we got her, coming up to 11 now. Rosie is 5 and Donny (the black ninja) is 3 this year and mad as a hatter. Betty is still 'The Boss', it just seems like yesterday when she arrived in our home (did I mention we moved homes to accommodate a pug as we were renting a 2nd floor flat then) – to be honest every major decision we have made since then has been as a result of accommodating the pugs! Betty gets really homesick if we go away and we nearly always end up cutting our holiday short because she's so unhappy.
One of my first surrenders had one eye, seemed almost feral, hated being touched and appeared to be pregnant! Fortunately, we had the most amazing (albeit new) Foster Carer lined up to take her. Polly would only let men-folk handle her in the beginning – challenging to say the least and thankfully it turned out to be a phantom pregnancy. Every step forward with Polly was met with 3 steps backwards, epilepsy, baldness and skin conditions, 19 dental extractions, likely luxating patellar, ear infections, chronic keratitis in her remaining eye, growling and aggression and her only interaction seemed to be humping of a teddy bear. Poor lamb – I couldn't even start to imagine what her life had been like up to then – she was 6 years old. It was a long hard road, especially for our Foster Carer. Polly was her first foster for us and Polly's behaviour had her doubting herself and it was many months before she felt they were forming a bond. Fortunately, she was happy to keep Polly permanently, avoiding putting her through another move and learning to trust another family. We were delighted for both of them. She's pictured here, reluctantly having one of her many medicated baths.
This role has opened my eyes to why people need to surrender their animals, often unpredictable changes in circumstances. I'm really happiest matching pugs to potential new families – Introducing a pug and watching them interact, knowing that they will have the love and care they need for the rest of their lives. It's heart-warming to get regular updates too.
I'm especially keen, and working on, raising PDWRA's profile across the North East particularly, at Events such as The North East Dog Festival. This year we held a Valentines Pug Party in Whitley Bay where we had our first "Pug Wedding" between a pair of pugs who had been adopted together following the ill health of their owner.
We have such an amazing Team of VAC's across the UK & Channel Islands with a wealth of experience and knowledge, always happy to share and help each other wherever we can. As a member of the Team you are given honorary 'big pants' that you often need to pull right up when dealing with the sorry end of rescue and abuse, negligent or otherwise, and offload to another team member so you can start all over again ready for the next case."