Our VAC covering Scotland is Sandra.  Here's her story.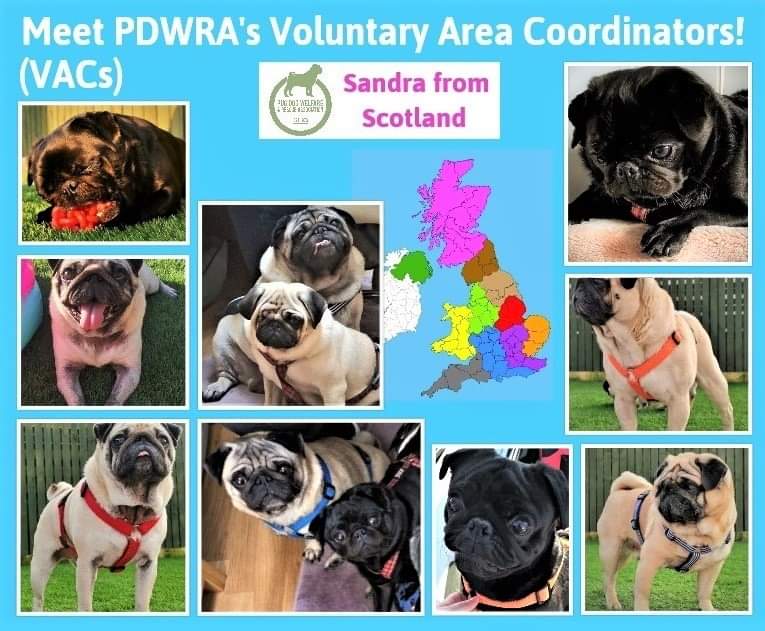 I have been involved in foster and adoption for 3 years now, adopting Elvis first in 2017.
Elvis had a few previous foster homes but unfortunately with no success.  He is both epileptic and deaf, both challenging conditions.  However, he settled into our home instantly and became such an amazing and loved family member.
Then came the fosters, 10 so far to date and I also confess to being a failed foster more than once.
Little Poppy came to us having been kept caged for up to 23 hours a day, this was to stop her shedding her hair in her owners' home.  She has severe allergies which cause her to scratch continuously.  She had no hair from her chin to her tummy, her legs and paws were bitten.  But with TLC, the right medication and diet, we got her onto the road to recovery and into our hearts.
My favourite part of this journey is seeing the joy and excitement when the new families come to pick up their new companions.  The dogs' reactions are just as amazing.  You feel their sense of knowing they are going to their forever homes.  This fills me with such happiness.  It makes all the work so worthwhile.
We are proud puggy parents to 5 darlings.  Olly was my first pug, now an old man of 11, still the tiniest pug I have ever come across.  A small dog with a big attitude!  We also have 2 fosters with us at the moment.  They are all treated the same way as part of our family.
PDWRA has also been like a family.  Everyone is so kind and helpful.  Emma our other VAC in Scotland has now stepped down, but her advice and guidance has been invaluable to me.