VAC Clare from East region writes:
"My day job is a manager in a busy veterinary hospital, and  I was first introduced to the charity 3 years ago by a colleague there. I already had a pug who still rules the roost, Polly, though I had no idea how many pugs were being surrendered and needed new homes.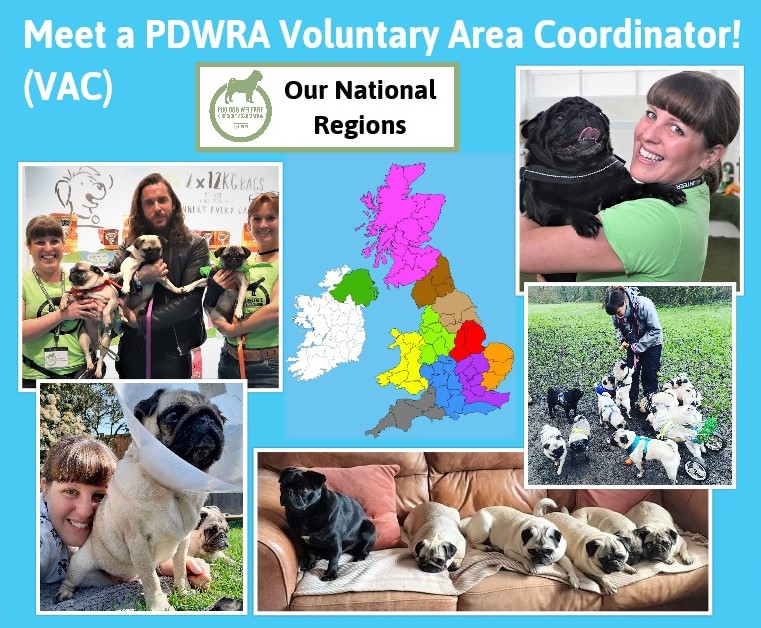 I began as a foster carer/home checker volunteer for PDWRA and will always remember my first foster, dear Uncle Bulgaria, who was a feisty pug with unfortunately a lot of health problems. We sadly only had him for a few months.
After a year or so, I became a regional Area Co-ordinator.  In addition to the day-to-day rehoming work, I have helped with various Events from Crufts to local fundraising parties, to help spread the word of this incredible charity who I feel honoured to be part of.
To date my most challenging and rewarding case is a little girl pug who was dumped outside a police station with multiple health issues. I collected and nursed her back to health. A year on she is living the dream life where she can want for nothing!
My favourite part of the role is working with the pugs that come in, to get them rehabilitated and ready for their forever homes. Also, working with the rest of the regional PDWRA teams and local volunteers has made me lifelong friends, thanks to the charity.
At home I currently have 5 pugs, Polly, Lolly, Rigsby, Lars and Babs, all very accepting of any foster pugs I bring home. Sadly, I very recently lost our 6th, Percy, who crossed the rainbow bridge".
If you would like further information or an application form to become a VAC, please email: