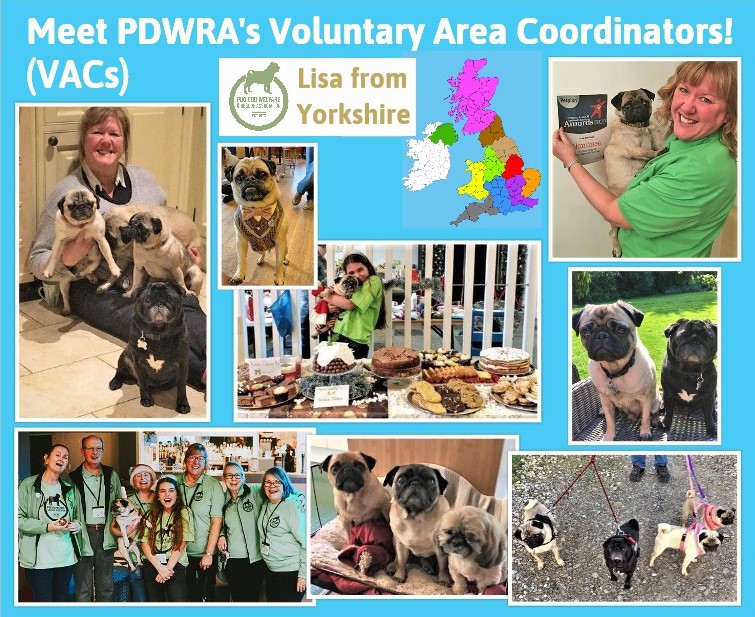 I first got involved with PDWRA in 2016, and became a VAC in June 2018 after welcoming my very own PDWRA rescue into our family.
My day job is running a charity providing care and support to older people, once you see how much of a difference a charity can make, volunteering becomes addictive!  PDWRA quickly becomes part of your life and it doesn't feel like work (although we do a lot of necessary paperwork!) and the colleagues you meet quickly become friends.
I got my first pug as a puppy in 2016, my daughter couldn't choose between the names Bruce and Alfie, but we settled on Bruce.  I feared he wouldn't learn how to walk with 4 doting adults in our home, he was forever in our arms or on our knee – not that he complained!  When he was 1, we started to talk about getting him a chum.  We went to a Christmas Party in aid of PDWRA and spoke to the VAC there.  After making our application we waited in anticipation.  The day we got the call that there was a pug that needed a forever home was just the best, he turned out to be called Alfie too!  We have never looked back and thank PDWRA from bringing him to us.
There are so many challenging and rewarding stories!  One in particular, was a few days before Christmas when a family split up, the mum was left with 4 dogs (3 pugs) and 3 children.  She simply couldn't cope with everything.  She had to put the phone down 5 times while giving me all the details because she was so upset, it was quite an emotional evening. We were quickly able to collect the pugs to rehome, it broke my heart picking them up because I know they didn't want to let them go, but I knew that it was the right thing for the pugs and it had been a very difficult decision for the family.   It's comforting to know they are cherished by their forever homes. Every month or so I get a message from the surrenderer to say they are thinking about them because it's raining and they don't like the rain (show me a pug that does!) or she will find a photo that brings back a happy memory and needs to share it with someone. I always hope I can bring her some comfort.
My favourite part of the VAC role is hearing how the pugs have settled in, how they flourish and how much joy they bring their new families.
Being the first VAC purely for Yorkshire, came with its challenges and opportunities. Under the careful mentoring of Jo and Jackie from the North East I started to build up a network.  Don't get me wrong, it wasn't easy, but it has paid off as after 2 years building it up, and with lots of encouragement from the national network, we are going from strength to strength.  We have been out at Events promoting the work of PDWRA and holding fundraising activities. We have built a great partnership with DIGS Student Accommodation and regularly hold wellbeing events which the students love!  Our fundraising this year has generated around £2k, people are so generous!  It was great when a second VAC, Louise, was brought in early this year to help to carry on the work in God's own county.