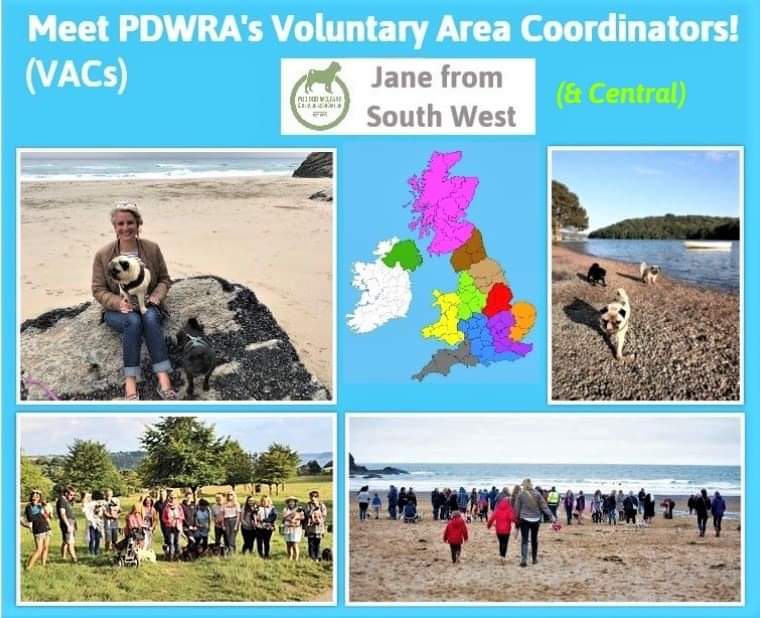 I live in the South West of Cornwall with my family, and three older rescue pugs: Teddy, Poppy and Kitty,  I enjoy walking, sailing, kayaking and being in the company of my pugs.  My day job is as a part time Early Years Practitioner.  I find there are many similarities between small children and pugs – both require a good sense of humour and much patience.
My introduction into the charity began in 2014.  I volunteered myself to hold a local sponsored pug walk as part of a PDWRA National fundraising event.  I had adopted two failed K9 Crusaders foster pugs, Teddy and Poppy, and now smitten with the breed, was keen to meet other pugs and their owners, and support those in need.  The walk was a huge success, and as a consequence we founded the Cornwall Pug Meet.  We meet regularly over the cooler months.
Having volunteered in kennel based general dog rescues over the years, I was keen to know more about volunteering for a foster based rescue.
I began my career as a PDWRA Volunteer Rehoming Co-ordinator in 2016 – working with Wales and West founder, and now PDWRA South West VAC, Maureen.   I thoroughly enjoy working as part of a National Team – working together to find pugs the most suitable home.
My first surrender and foster was an exuberant and unforgettable pug cross called Betty.  She left her mark in the form of gnawed door architraves and missing kitchen door knobs.  I found her a nice rural farm home.
I think my most challenging, and equally reqarding case to date was a little pug cross called Jenny.  Jenny was merely a pup, failed by her owner who left her outside all day and all night in extremely poor conditions, and without regular food and water.  I worked hard with Jenny's caring neighbour to keep her safe, and six months later she arrived in the care of PDWRA.  Jenny went on to be adopted by a wonderful couple who were previous adopters; here is the link to her story.
https://pugwelfare-rescue.org.uk/little-jenny/
One of the most rewarding parts of the role for me is seeing those all too often misunderstood pugs turning a corner with the support and patience of a PDWRA foster carer.  Patience, time, love, boundaries and exercise can achieve wonders.  We really are blessed to have the very best foster carers available to help.  I think I gain the most reward from seeing an elderly pug settle down on a comfortable sofa. They ask for very little, yet offer so much.