Meet another of our VACs, Kirsty from the South West: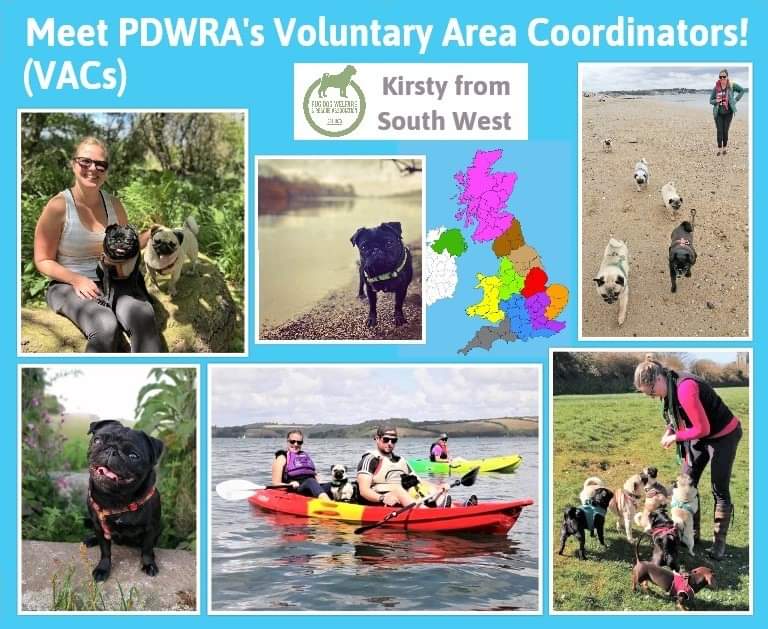 I became involved with PDWRA 2 years ago when my fiancée and I applied to become foster carers for a pooch in need.  We run a dog daycare and homeboarding business in Cornwall and had the time and facilities to offer a temporary home for a dog in need.
This may be the time to confess our dark secret – we weren't too sure about pugs!  Having cared for many breeds over the years and considering ourselves big dog people, I applied to foster a pug because I felt sure I would not get too attached.  How wrong I was.  We did not realise the impact these funy little creatures would have on our lives, and after a crash course on how to speak and understand Pug from the wonderful VAC Jane, we were on our way.
We collected our first foster pug, a small and stern black female now named Piggy, nearly 2 years ago, who of course never left.  We should have seen the trouble coming after we signed the adoption papers and she promptly attached herself to the end of my nose in gratitude.  She rules with an iron fist but has us laughing all the time and will get involved in anything we throw at her from agility to canoeing.
We have since fostered 5 more pugs and number 6 has also decided he will be staying, to pursue his new found love of the sea and water based hobbies.  He has been our most challenging guest with his complex behaviour issues, but totally worth it when a year on he is complimented out in public on being "such a lovely well behaved dog" – although his favourite pastime is still to dive out from under a table and try to grab a waiter's ankles!
There are many wonderful elements to the role of VAC and involvement with PDWRA.  I love seeing a happy pug in a happy home and to know that you were a part of their happy ending.  Also being part of a supportive community who are as pug mad as we are, and meeting some lovely people because of it.