Maureen was one of the original founders of the Wales & West Pug Rescue.  Here is her story.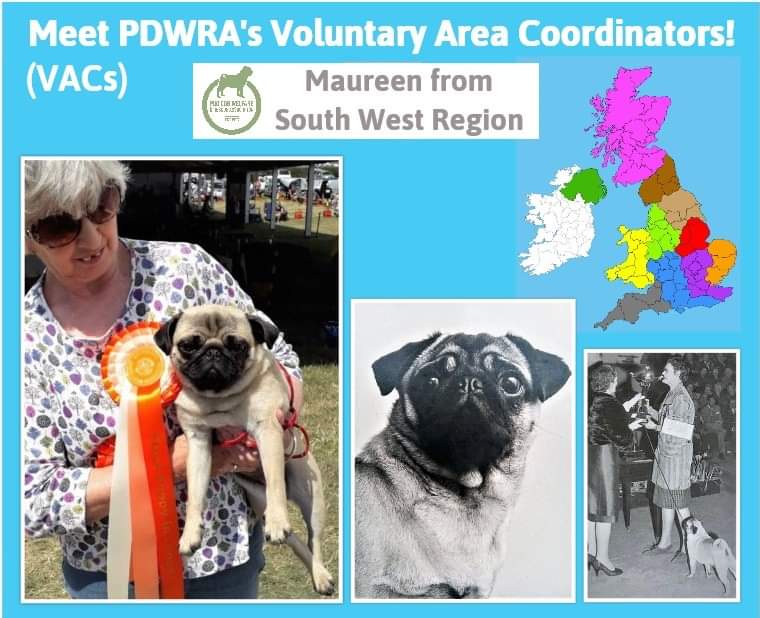 I live in Devon with my five pugs and one Pekinese.  My pug Ruby is a rescue who arrived six years ago.
Pugs have been in my family all my life – owning my first one some 52 years ago!  Lucy was born on Easter Sunday 1968 as "Demelza's Easter Nimbell", pictured here.  She was actually sired by Nimrod, the first pug to ever win the Toy Group at Crufts (1967).
I have been lucky to be able to breed and show them with good success, and I am also a Championship show judge for the breed.
A small group of us got together in 1987 and formed the Wales & West of England Pug Dog Club.  In 1988 we formed our rescue group on which I served for 30 years.  In 2018 sadly our volunteers were ageing, and we were very short of numbers.  A suggestion was put in place to pool our resources and combine with PDWRA, which has worked so well.
I have always been involved with fundraising events, fostering pugs, and home checks.
Lots of friendships have been made over the years with my involvement with pug rescue, and I have found it so rewarding.