Would you like to help us by becoming a Friend of Welfare?
Carolyn says:       
"I have just become a Friend of Welfare. Thank you so much for all the information and my goodie bag which arrived today. I love the badge, pen and sticker and I am pleased to be part of the fundraising with my membership and small donations from stamp collecting, recycling ink cartridges and Amazon Smile.  Every little helps pugs in need. Thank you for everything you do".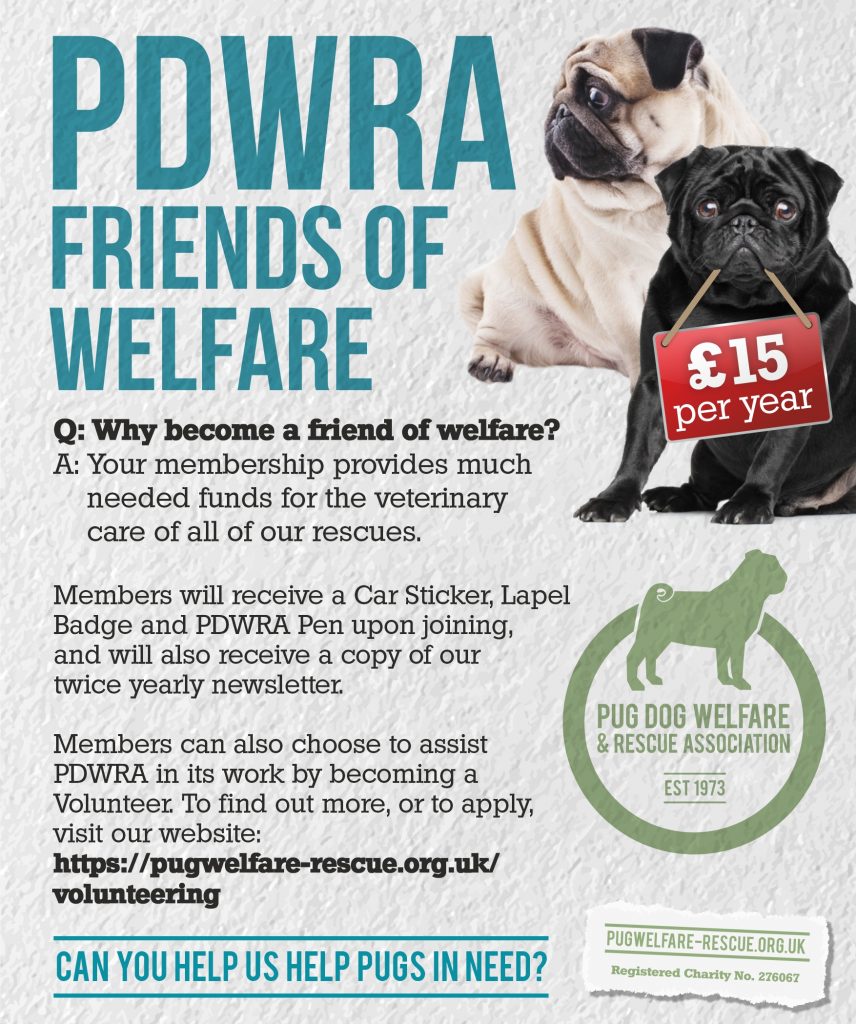 In response to popular request, PDWRA has formed a section known as the Friends of Welfare.
The annual subscription to the Friends of Welfare is £15 minimum.
It would help us if you could Gift Aid your subscription, and any other donation you may make.  Just remember to complete the Gift Aid Declaration – page 2 of the form – as well.
Download the Friends of Welfare application form here [PDF]
Once you have downloaded the form, please print it out and return it to the address stated.
TIP: Right-click over the link and choose 'Save Link As' or 'Save Target As' to download the form directly to your computer. Clicking on the link may open it in your browser and can cause the form to print out slightly smaller.
The form is in Adobe 'PDF' format which requires Adobe Reader. In the unlikely event this is not already installed on your computer, you can download it free by clicking the button below:

Friends of Welfare can also choose to assist PDWRA in its work, but this is optional. If you would like to become a PDWRA volunteer, then please visit our new Volunteering page which you will also find here on our website, and complete the questions applicable to the role(s) you would like to help with on the online application form.
Here is the link: