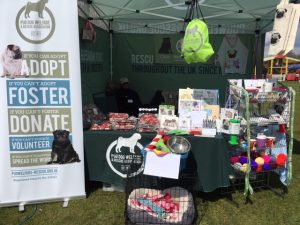 The PDWRA gazebo at Framlingham Country Show, 13 and 14 April.
The weather was not kind to us as the weekend was bitterly cold, with a fair sprinkling of sleet and hail, and an Easterly wind blowing much of the time!
Some of our volunteers and visitors, and their pugs.
On Saturday our volunteers were Tracey, Toni and Paul, Debbie and her pugs Monty and Bella, along with Alison and Peter who set up the stand each day, and Janet.  On Sunday Alison and Peter held the fort again with volunteers Vicki, Lyn and Les, Sue, Debbie and Janet, together with pugs Oscar, Doris, Louie, Eric, Topsy and the long-suffering Monty paying a return visit.
It was lovely to meet Rose and Will who brought along their adopted paraplegic pug Frankie, who was thoroughly enjoying his day out together with his elderly companion Dizzee, also recently adopted.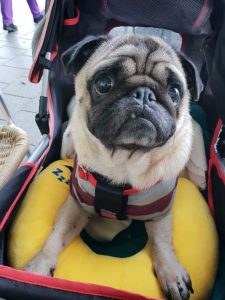 A massive and very grateful thank you to all our volunteers and visitors for supporting PDWRA.
PDWRA will be attending a number of other events throughout the spring, summer and autumn – we hope the weather will be a little less cold!  We look forward to seeing as many of our supporters as possible at these events, to help spread the word about our charity, and the rescue and rehoming work we do.