"No time …"
The most common reason given for surrendering a pug seems to be that "they no longer have time to care for/walk them any more".
It would be easy to judge but we don't do that – anyone's circumstances can change in the blink of an eye, whether they've done proper research or not.
This was the reason given for these 2 youngsters before Christmas, but they are now both settled in wonderful homes, so we remain very grateful that their owners surrendered them to us to ensure they got the best home to suit them.
Dino (fawn) is seen here having a stretch on "his" seat …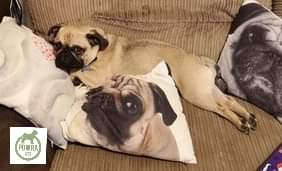 … and again doing the usual pug squish-on-lap game.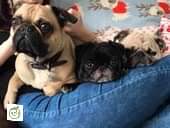 Alan (black) is posing beautifully with his new owner's mum's pug – how cute are his white socks?