Many thanks to everyone who has emailed and expressed interest in the beautiful Maggie.  We have the best supporters ever!
We are delighted to say that we are very close to finding Maggie's happy ever after home, so we are not accepting any more applications for her.
Please, if you haven't been successful this time, apply to adopt via the link below.  If your circumstances and home check are successful, then you will be put on a waiting list to adopt another pug – not all pugs need an appeal like Maggie's.
https://pugwelfare-rescue.org.uk/adopting-a-pug/
This is Maggie.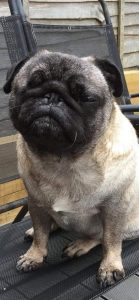 Maggie is 4 years old and is currently in foster in Cornwall.  Maggie is looking for her adoptive home.
Maggie is a sociable, affectionate lady, who gets on well with all people and dogs alike.  She has previously lived with other dogs, and is enjoying another pug to play with during her time in foster.   Maggie could also be happy as an only pug if her people were around for most of the day.
As you may have noticed, Maggie has only one eye, having lost her other eye in an incident in her previous home.  Her remaining eye is in good health.
Maggie has a sunny, comical disposition and very much enjoys spending time with "her people".  She likes to be included in most interests, but can cope with being left for a few hours.
Maggie can bark at the usual pug stimulus, but stops when told no.
Could you be the loving home that Maggie is hoping for?