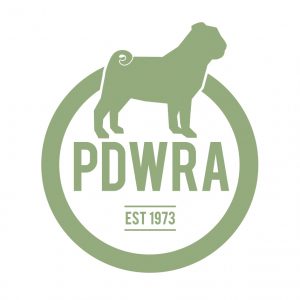 Following our AGM on Sunday we have some changes to the PDWRA team to announce!
Our Chairman Alison Mount has stepped down as chair and remains a PDWRA trustee. Alison will continue to manage the PDWRA newsletter, shop and represent PDWRA on the health committee. We all thank Alison for her years of dedication and hard work and we are delighted that she remains very much a valued member of the PDWRA team. We welcome Robin Coulter our treasurer as our new chairman for PDWRA and we know he will do a fantastic job!
Our Secretary Janet Thomson is also taking her well earnt retirement and has now been appointed as a Vice President. Our most grateful thanks to Janet who has done a wonderful job and has worked very hard over the years to keep up with an increasingly demanding position as our charity has grown. We welcome Lynne Kellow our fundraiser as our new secretary and we know she will do a fantastic job too!
We have also appointed three new trustees; Lynne Kellow our new secretary, Jane McAllister who coordinates rehoming for the South West and Wales and Charlotte Hill who is a welcomed addition to our board as an acting solicitor.
We will also be saying goodbye to Debbie Symes who has done a fabulous job coordinating rehoming for the East region and our most grateful thanks to Debbie for all of the hard work she has put in – which has included fostering many PDWRA rescue pugs over the years now happily adopted with her help.
All PDWRA team members give their time generously and freely usually alongside their own jobs, families, pugs and other commitments. We certainly could not do what we do without all of the hard work of our team members past and present and all of our supporters and volunteers. So sincere thanks to everyone involved and here's to another year of rescuing and rehoming pugs!