Bubble and Squeak
Possibly our hardest to home are bonded pairs such as Bubble and Squeak, pictured above.
These two were surrendered recently due to a change in family circumstances.  Aged 5 they have been together since puppies. They are a lovely sweet natured pair who hopefully will soon find their forever home.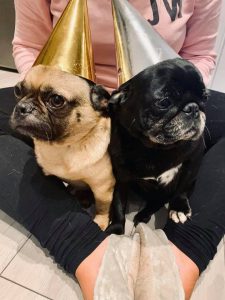 If you feel you are able to offer a special home to a pair of pugs, then please complete our online application form below, and make sure you answer YES when asked if you would adopt a bonded pair.
Online Application Form to Adopt a Pug
Alternatively, please follow the link below to download, complete and return an adoption application form via post, and please clearly mark your application "Perfect Pairs".
Download the Pug Dog Adoption Form [PDF].
Once you have downloaded the form, please print it out and return it to the address at the bottom of the form.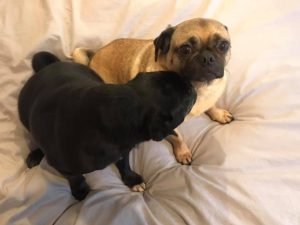 Here is the link to our "Perfect Pairs" page: