Benji has had problems with his eye since a pup. It grew to an abnormally large size and also had a cyst on the eye ball. As it grew larger the pressure was uncomfortable for Benji and the cyst oozed a horrible discharge. Due to personal circumstances his owners were no longer able to cope and surrendered Benji to PDWRA. It soon became apparent that he had no sight in the eye and he was also quite scary to other dogs as it seemed like he was 'eye balling' them.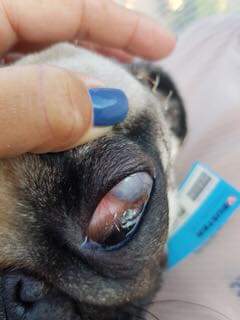 A decision was made to remove the eye to ease his discomfort and stop the cyst from oozing and collecting in his facial folds. His foster mum reports of a dramatic change in Benji. He is much livelier and happier.
When Benji's wound is completely healed his forever home will be found.
Currently Benji's vet bills are quite high so any donations would be very gratefully received.
You can donate via the following link: