This is Benji.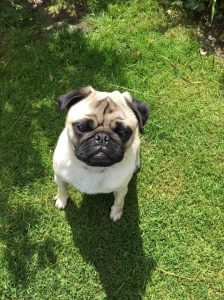 We are happy to announce that Benji's forever home has been found, and he's getting ready for his new life.
Thank you to everyone who expressed an interest, and everyone who shared, we are very grateful to you.
If you weren't lucky enough to be chosen to rehome Benji, there may be another equally deserving rescue pug just waiting for you to apply to adopt through the link below.
https://pugwelfare-rescue.org.uk/adopting-a-pug
Benji is a very nervous little dog, and probably always will be.  That said, he is a friendly and loving dog and eager to please, once he gets to know you.  Benji is very wary of strangers and it takes time to build his trust.
We think he was left crated for long hours, which may account for his initial reticence.  Benji is 18 months old, neutered and fully housetrained.  He was surrendered because his family didn't have the time to spend with him any more.
Benji can be a bit of a loner, but got on really well with his foster carer's other dogs, and started to learn from them.  We think he needs to be with other dogs and an owner who is committed to continue with his training that his foster carer has started.  We would not consider placing him with a family with young children as he can get a bit mouthy when excited.  He loves his long walks, and is very responsive to your voice.
As his foster carer states: "Benji will never win any bravery awards but he would be a fun addition to anyone wanting an active little pug".