Nearly 3 weeks ago Teddy and Bunny travelled almost 290 miles to reach their forever home with Ian.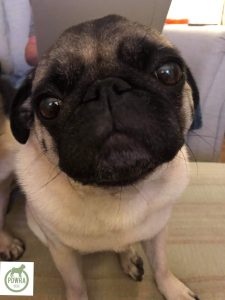 This from Ian:
"Both have settled in really well and have found their places on the sofas and on our bed.
We went out to buy a nice big cage as we were told that the pair love sleeping in their cage together. Well, they spent one night in their cage and ever since have snuggled up on our bed every night – the nice new cage has since sat empty.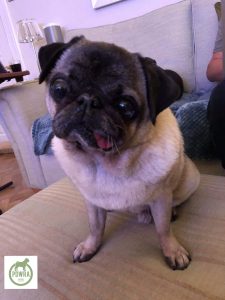 We have introduced them, with advice, to raw food as Teddy was struggling with kibble having no teeth and it was going everywhere.  They really love it and even our old dog Maria is loving it too.
Maria showed her feisty side to start with, to let them know she was still the pack leader and numero uno, and both Teddy and Bunny gave her a wide berth for a day or two, but now all 3 snuggle in front of the Aga or wherever they can, always touching each other. They have both had a clean bill of health from the vets which is reassuring. They are walking well on their leads and are in the park three times a day on and off lead.  They are a lovely pair and have now settled into a trio with Maria who was pining for her lost mate."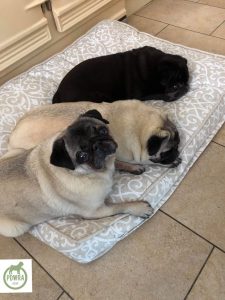 We carefully select the homes our pugs will go to – we want it to be their forever home and will never let distance be an obstacle when we know we have the best home waiting for them at the end of the journey.
Fortunately both Teddy and Bunny travel really well in the car and took it all in their stride.  Such a long journey meant we had to rely on our trusted volunteers to help with the transportation as well as the willingness of Ian to travel partway too.
Again big thank you's go to our foster carer who cared for them so well, and to everyone who helped out with the transportation – we couldn't do what we do without you.