Helen, a PDWRA Trustee and our Veterinary Adviser, tells Henry's story:
Henry, a 2 year fawn pug, originated form the SW region, and was surrendered to PDWRA as the family no longer had the time to give to Henry that he deserved. They had also never beeen able to toilet train him.
I decided to foster him, and as soon as I soon him I fell in love – a stunning boy, and very healthy apart from being overweight.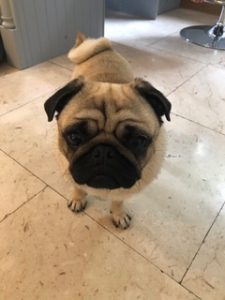 Henry also hadn't been well socialised so had  some fear based anti-social behaviours.  However, within 2 weeks of fostering him, Henry has lost weight, was toilet trained and behaved so much better.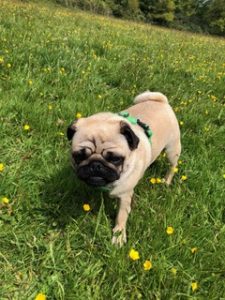 I had a forever home lined up in the SE England, and being in Devon I was trying to work out how I could get Henry to his forever home.
As luck would have it, whilst walking the 4 pugs (Henry and our grumble), we met a couple who happened to be in holiday in Devon, but lived in Essex; amazingly they offered to transport Henry when they left for home, and 5 days later, Henry was in his adoptive home – it restores faith in humanity.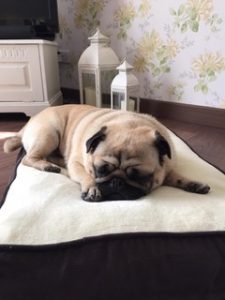 Henry  settled very quickly, and he is now very much part of the family and loving life!