To all of the hard work that has gone into all of the organised walks and fund raising events this year so far to celebrate PDWRA's 45th Anniversary Year.
What a busy year it is proving to be too so your donations and support are so appreciated and will go a long way towards helping our pugs in need and the pugs that continue to need our help every day.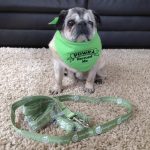 We still have more announcements to make but these are some of the amazing totals raised so far! Every penny helps!
💚 Kelly Ash – £30
💚 SNORKIES – £59
💚 Fife pug meet up – £400
💚 Cheshire Pug Meet Up – £128.50
💚 Northern Short Noses – £120
💚 Cornwall Pug Meet – £754.50
💚 Pug Grumble Club Dorset & SW – £50.65
💚 South Staffs Pug Group – £50
💚 Rachel Hodges & Finn – £114
💚 Aberdeen City & Shire Pug Meet Up – £200
💚 Bedford Borough Pugs, Bucks Pugs, Cambridge Pugs, Northants Pugs & North Herts Pugs – £1,370.25
💚 Wokingham Pugs – £405.50
💚 Andover Group Garden Party – £150
💚 Lorraine Callaghan – £725